A330neo route proving
A330neo MSN 1819 under the colours of TAP, the launch customer visited Mauritius on Sat 30 June 2018 as part of its programme for demonstrating readiness for airline operations. Together with some members of The Aeronautical Society of Mauritius ( aesm.mu), I had the privilege to visit the aircraft thanks to the courtesy of Airbus Industrie. The aircraft arrived from Kuala Lumpur and left the following day for Toulouse. Air Mauritius will take delivery of two A330neos later this year and will be the first airline in the world to operate both A350 and A330neo.
Flypast A330neo MSN 1819 @ SSR International Airport.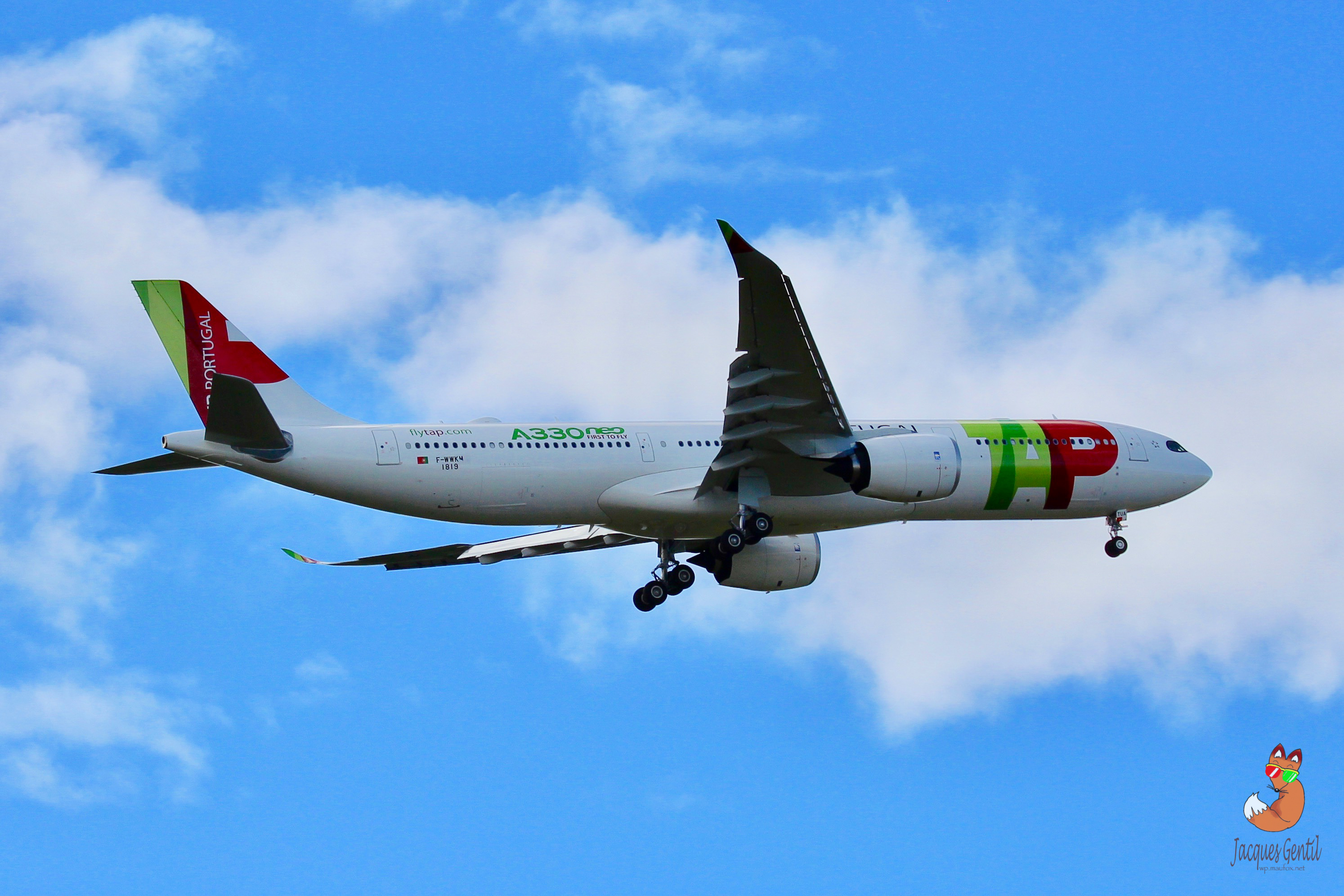 TAP launch customer of A330neo.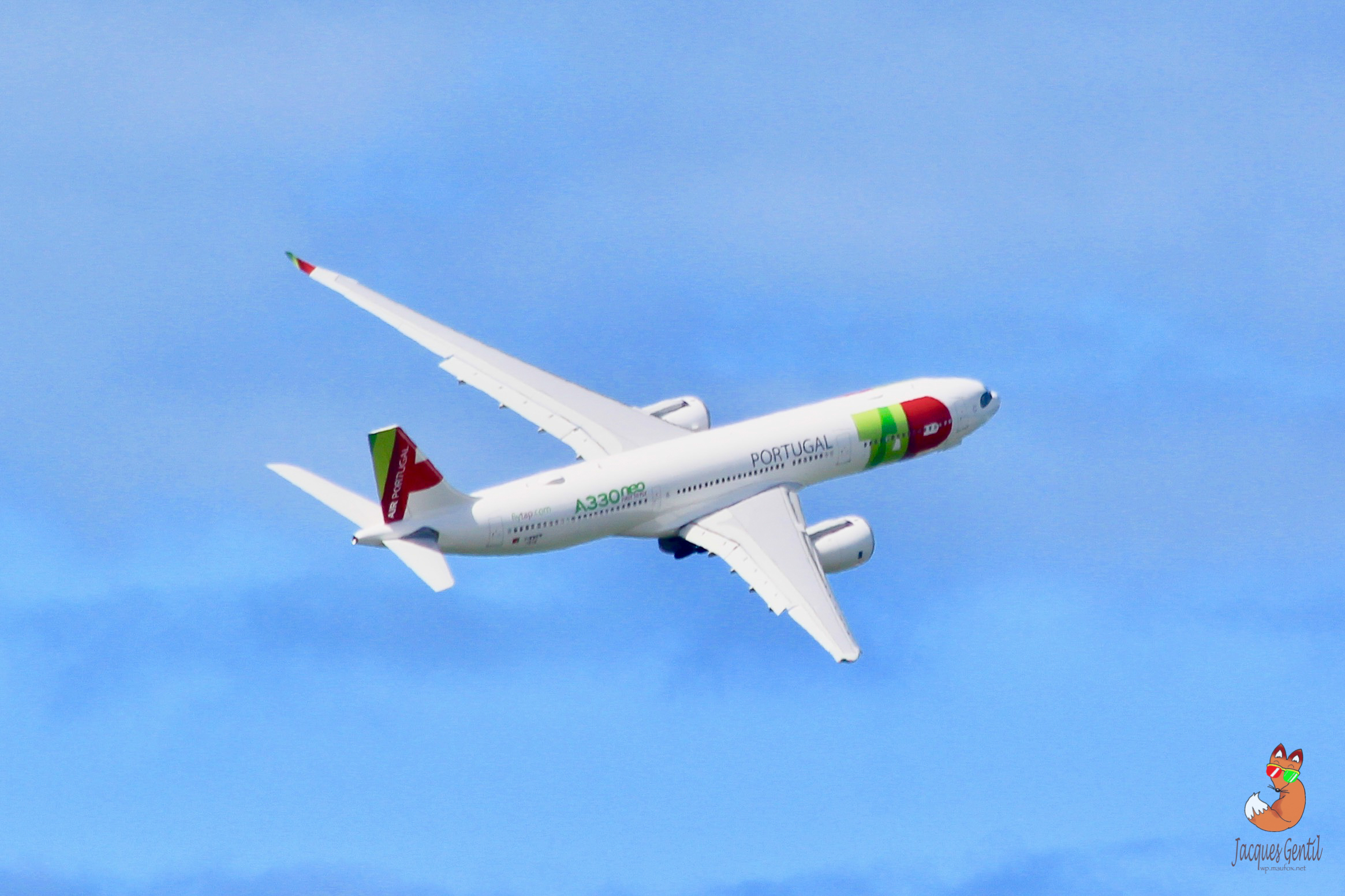 Visit Mauritius 30 June 2018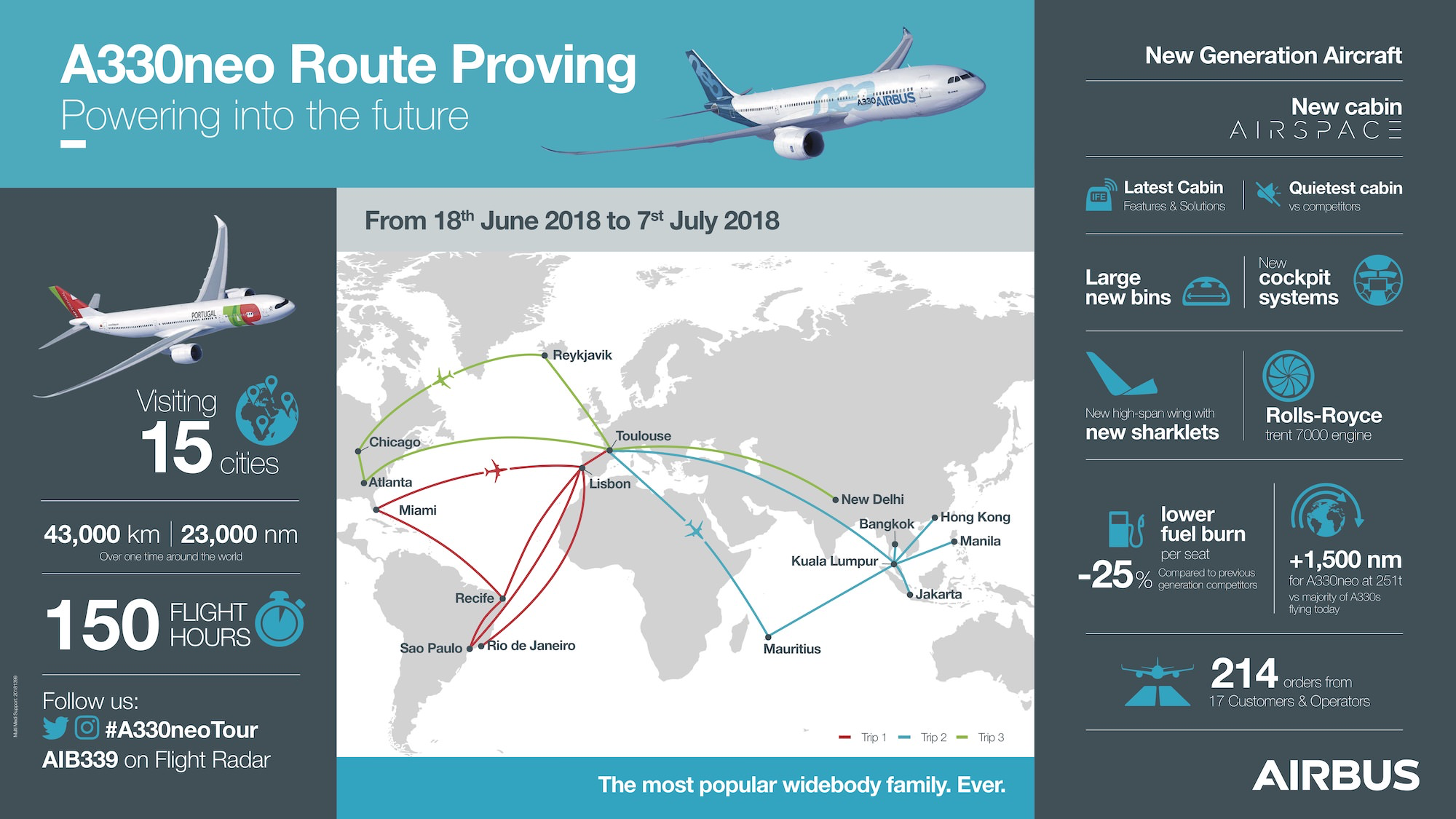 Flypast and landing runway 14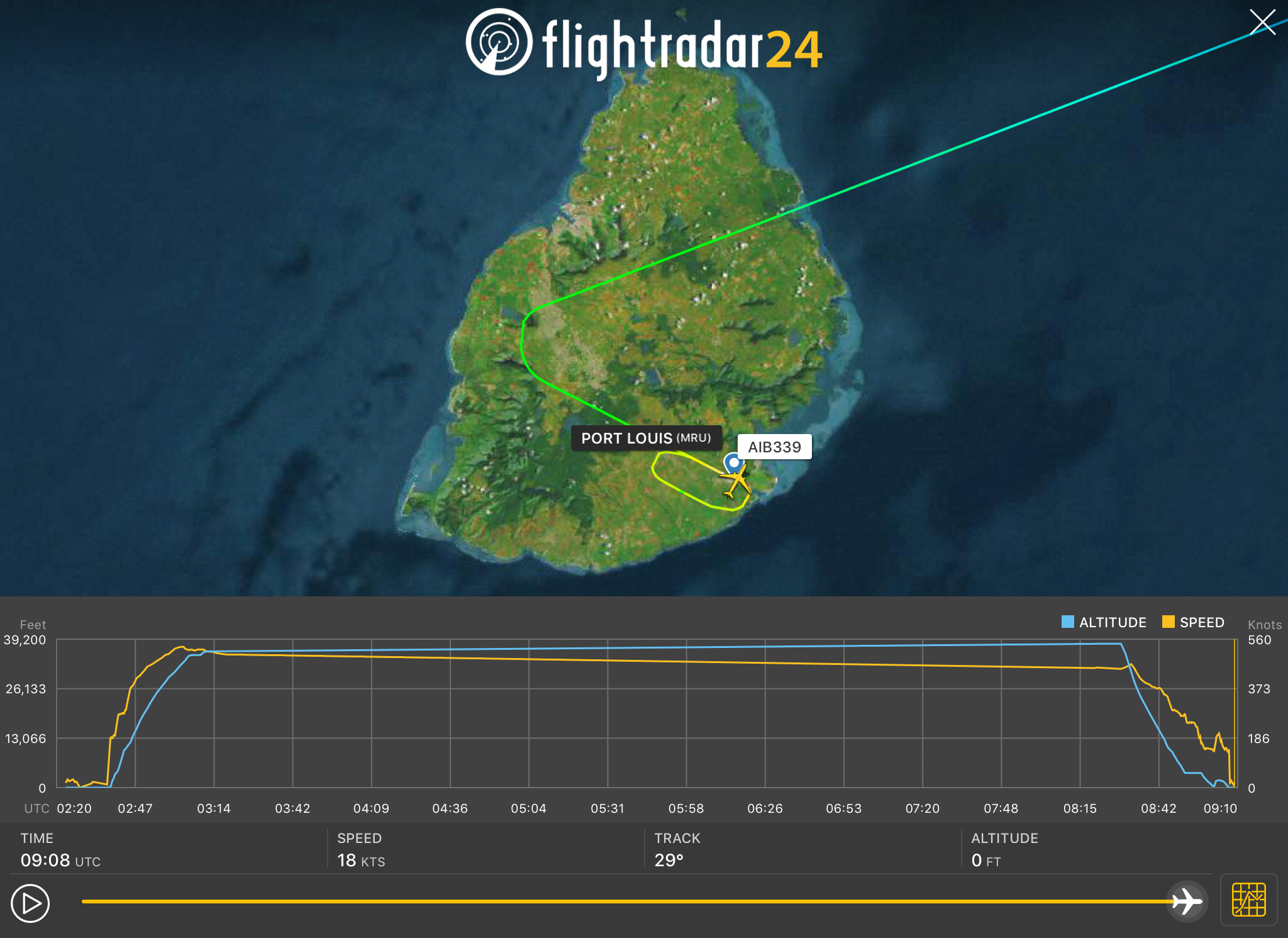 Landing at SSR International Airport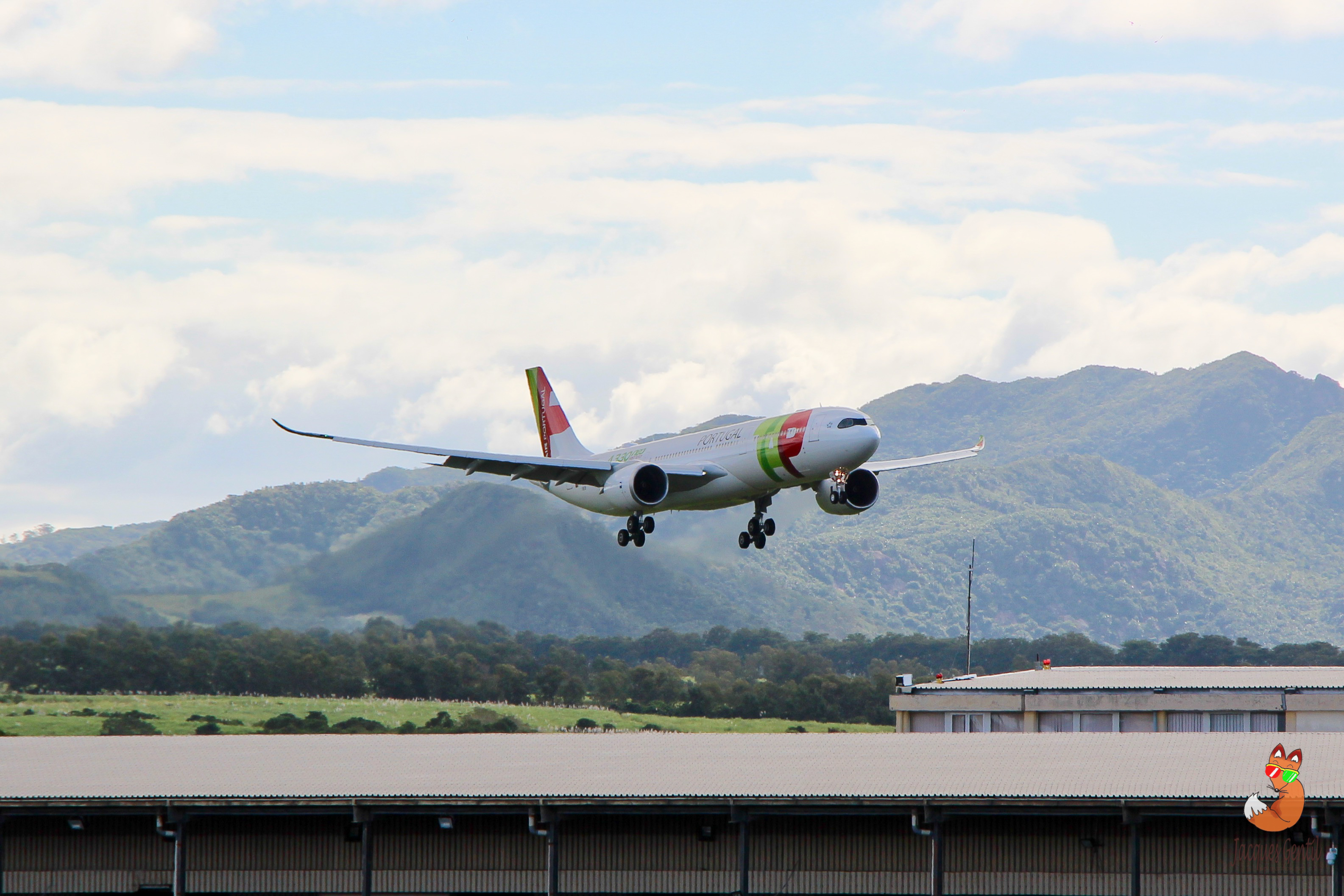 Range 12,130km, Height 16.79, Wing span 64m, Overall length 63.66m, Max Cabin Width 5.26m
First flight MSN 1819, 15 May 2018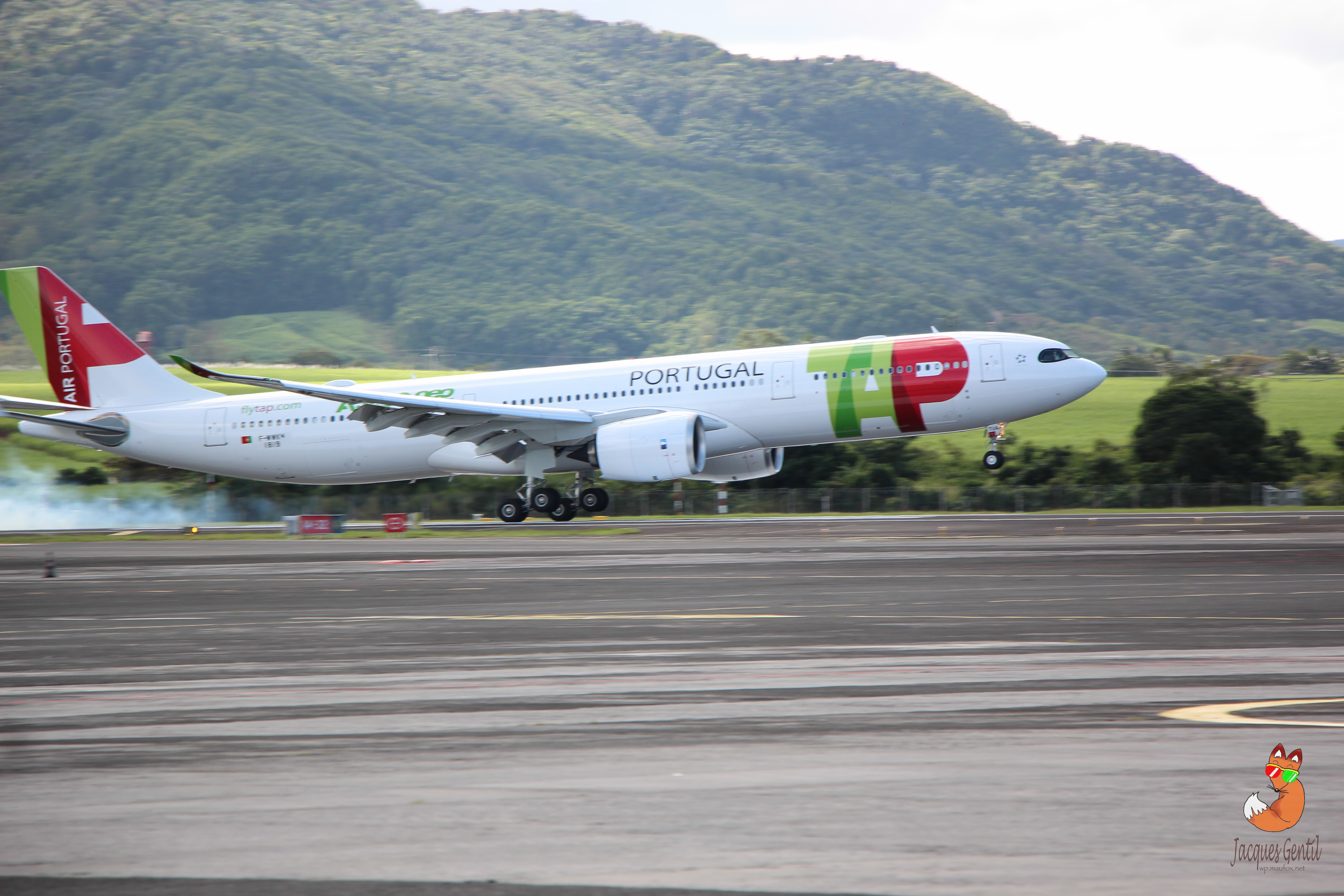 MRW 242.9t, MTOW 242t, MLW 191t, MZFW 181t, MFC 139,090l
Programme launched July 2014 and first flight of prototype MSN 1795, 19 Oct 2017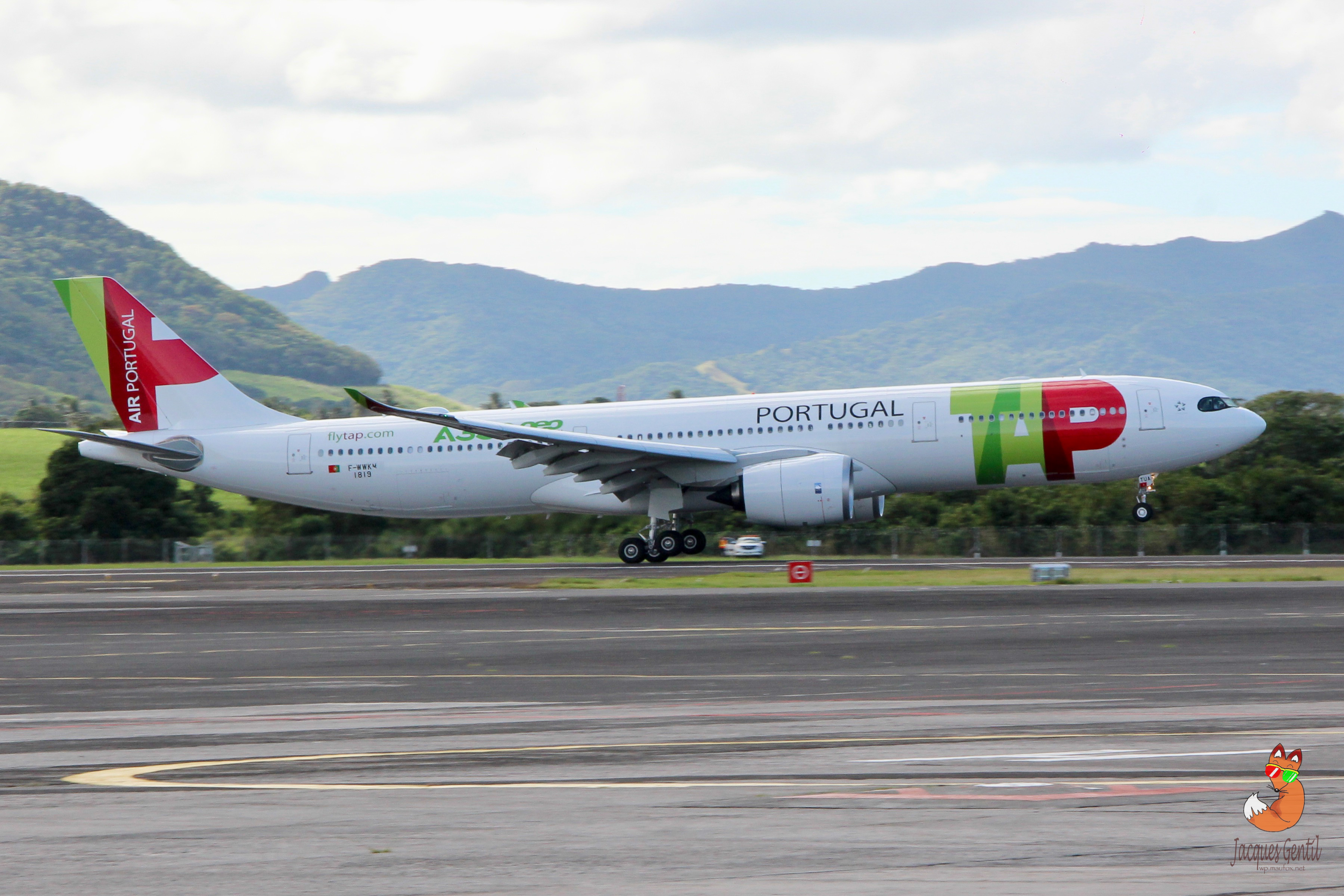 Burning 14% less fuel per seat, new engines and aerodynamic improvements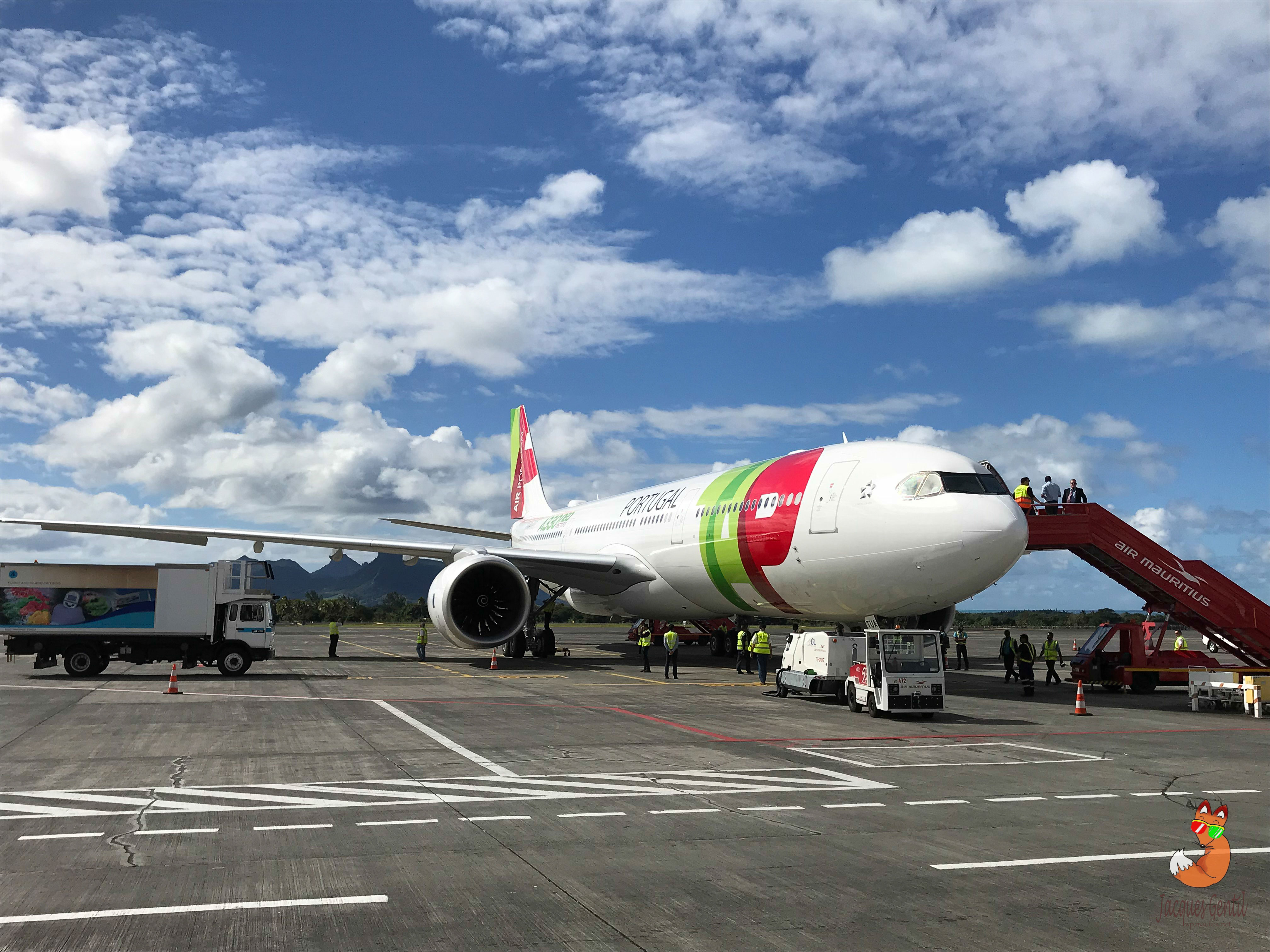 TAP A330neo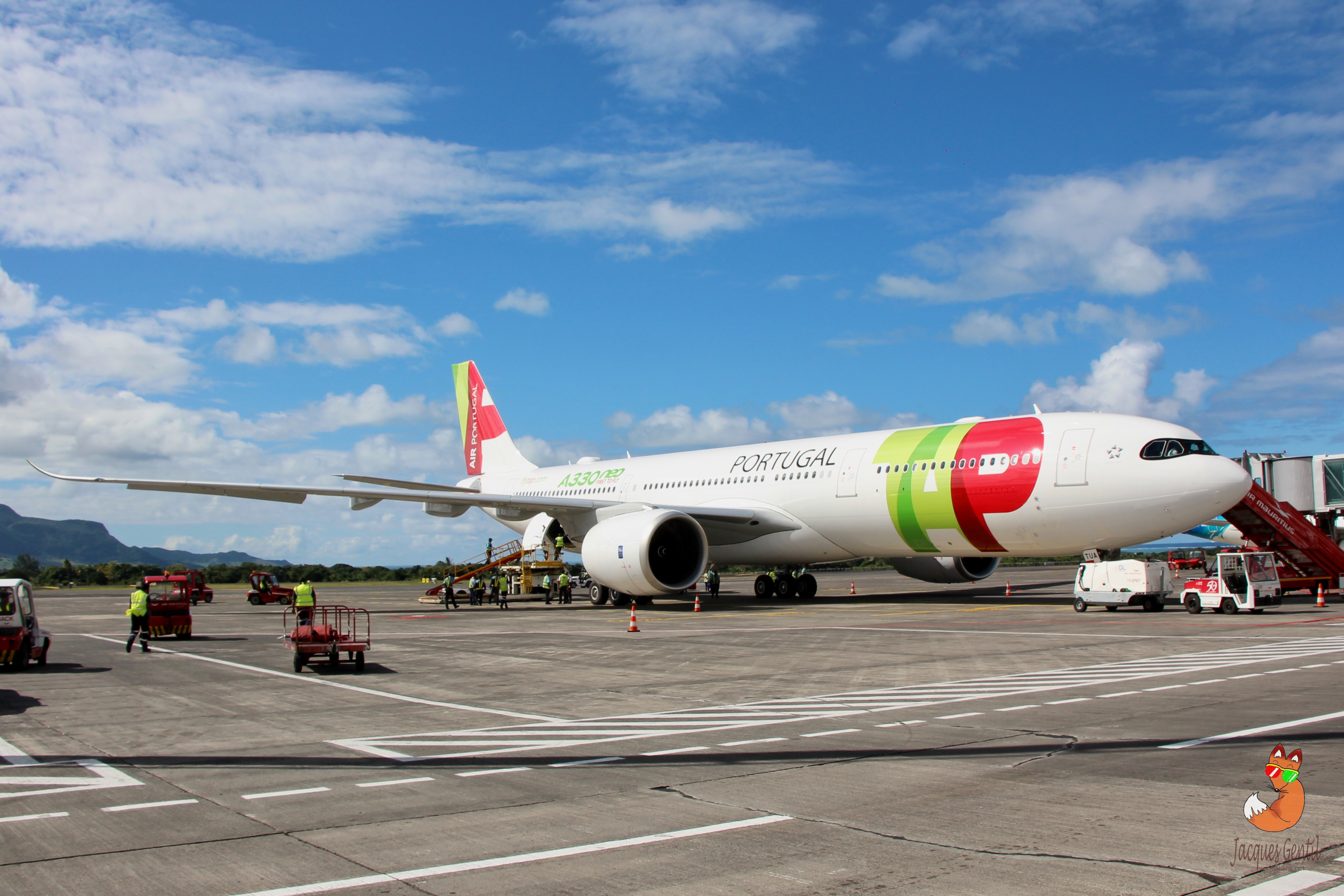 Air Mauritius will take delivery of two A330neos later this year.
Painting around cockpit windows gives it the look of the A350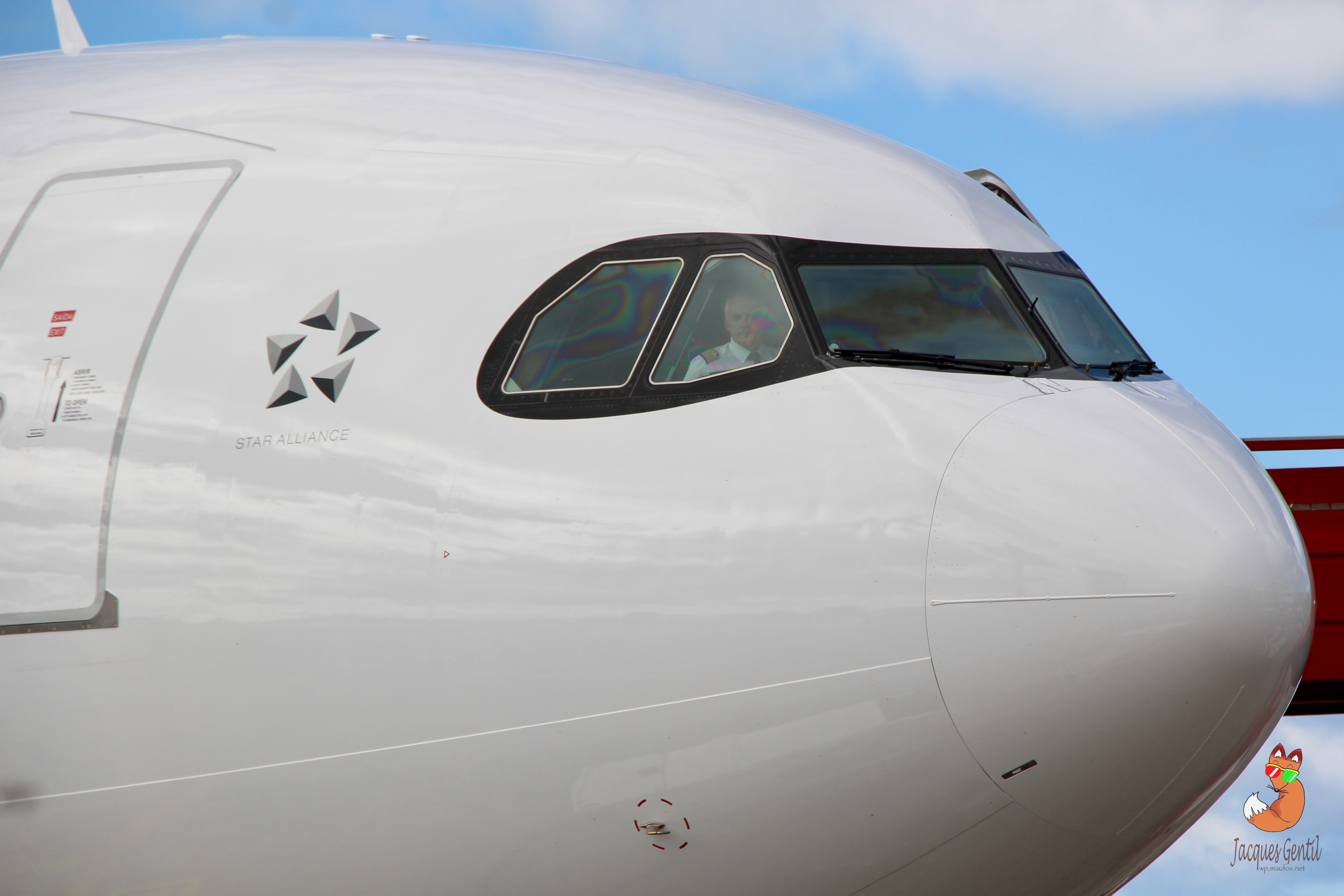 Air Mauritius welcoming the Crew.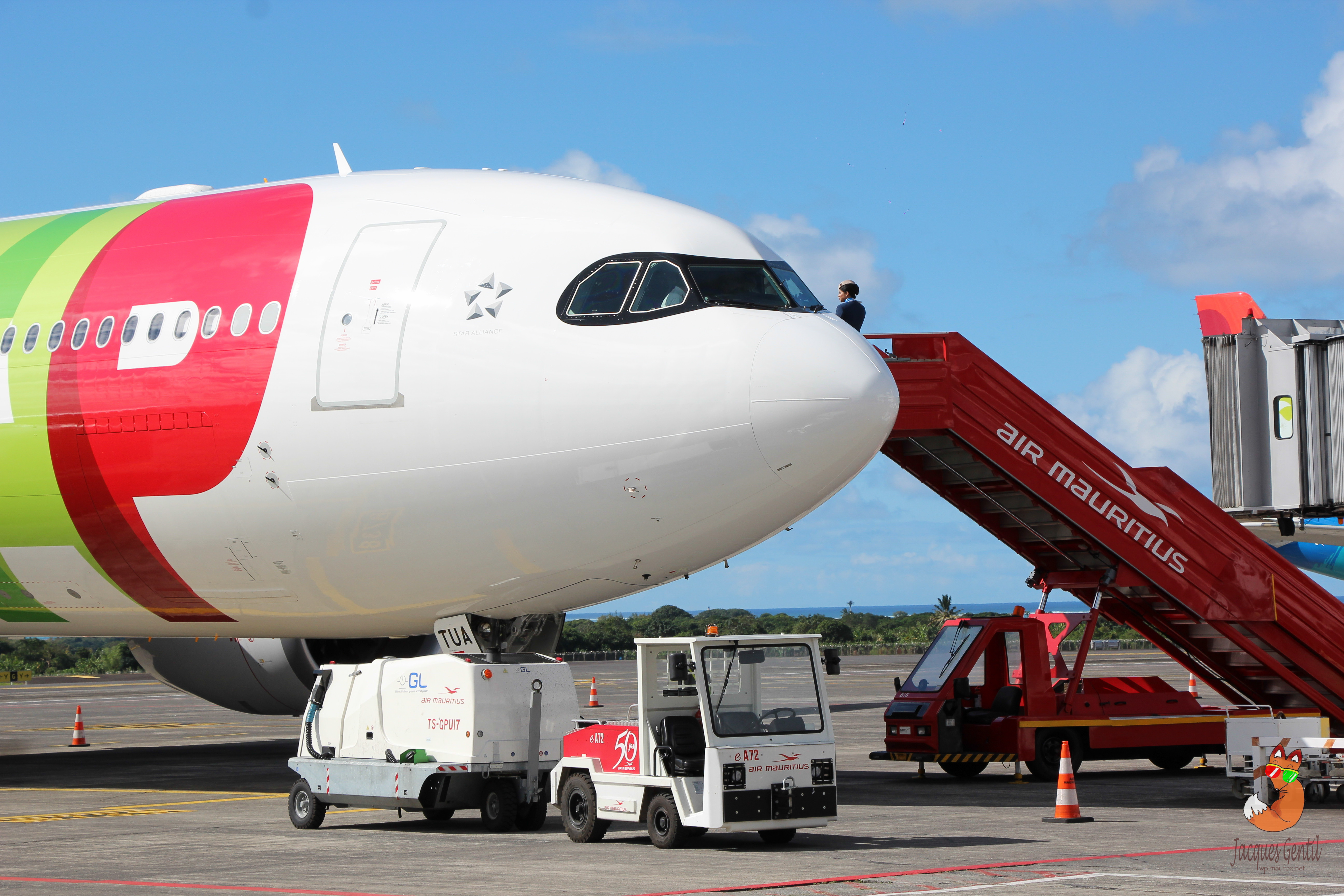 Airbus Test Pilot Jean-Michel Roy and Air Mauritius CEO Somas Appavou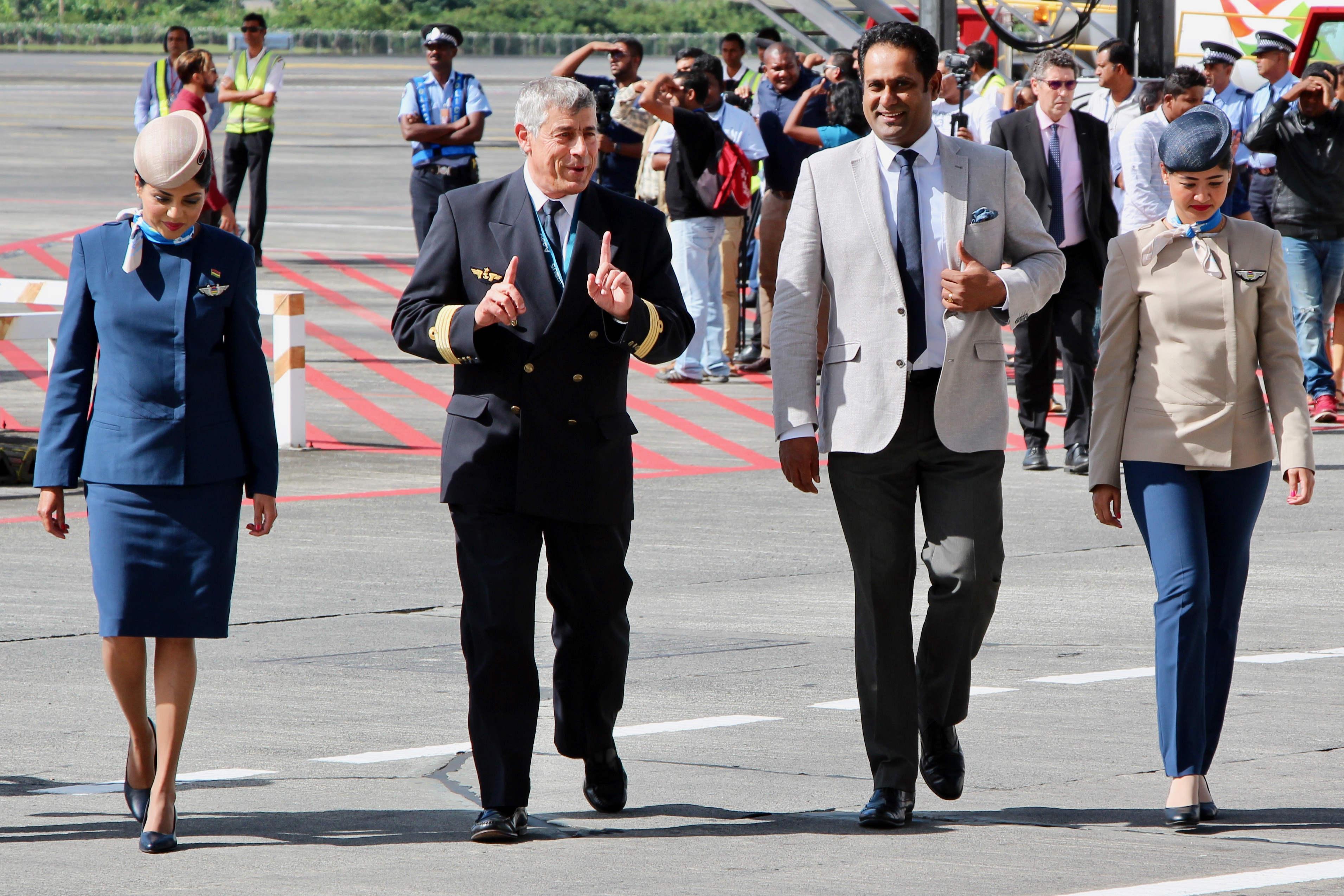 Rolls-Royce Trent 7000-72 engine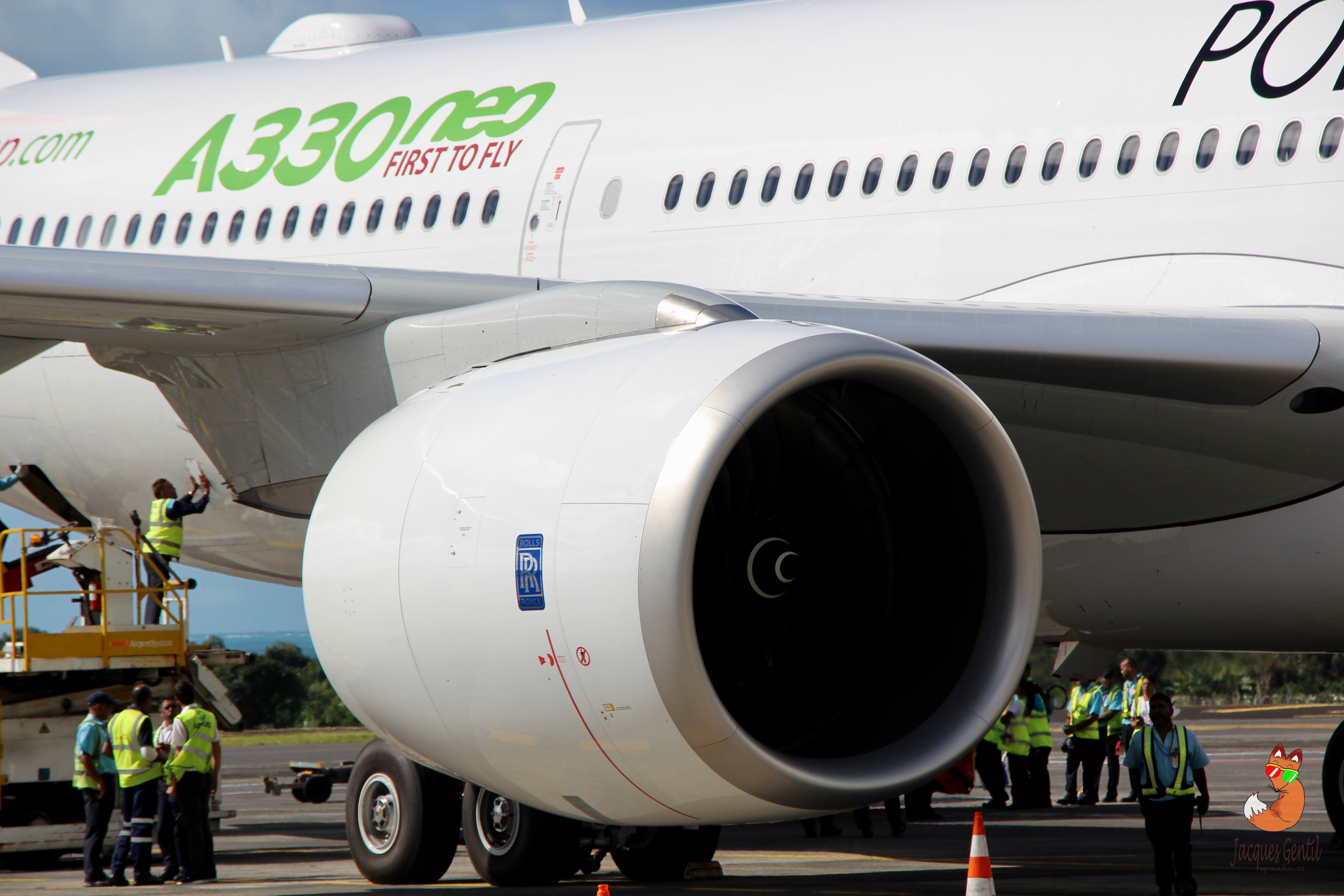 The third A330neo manufactured by Airbus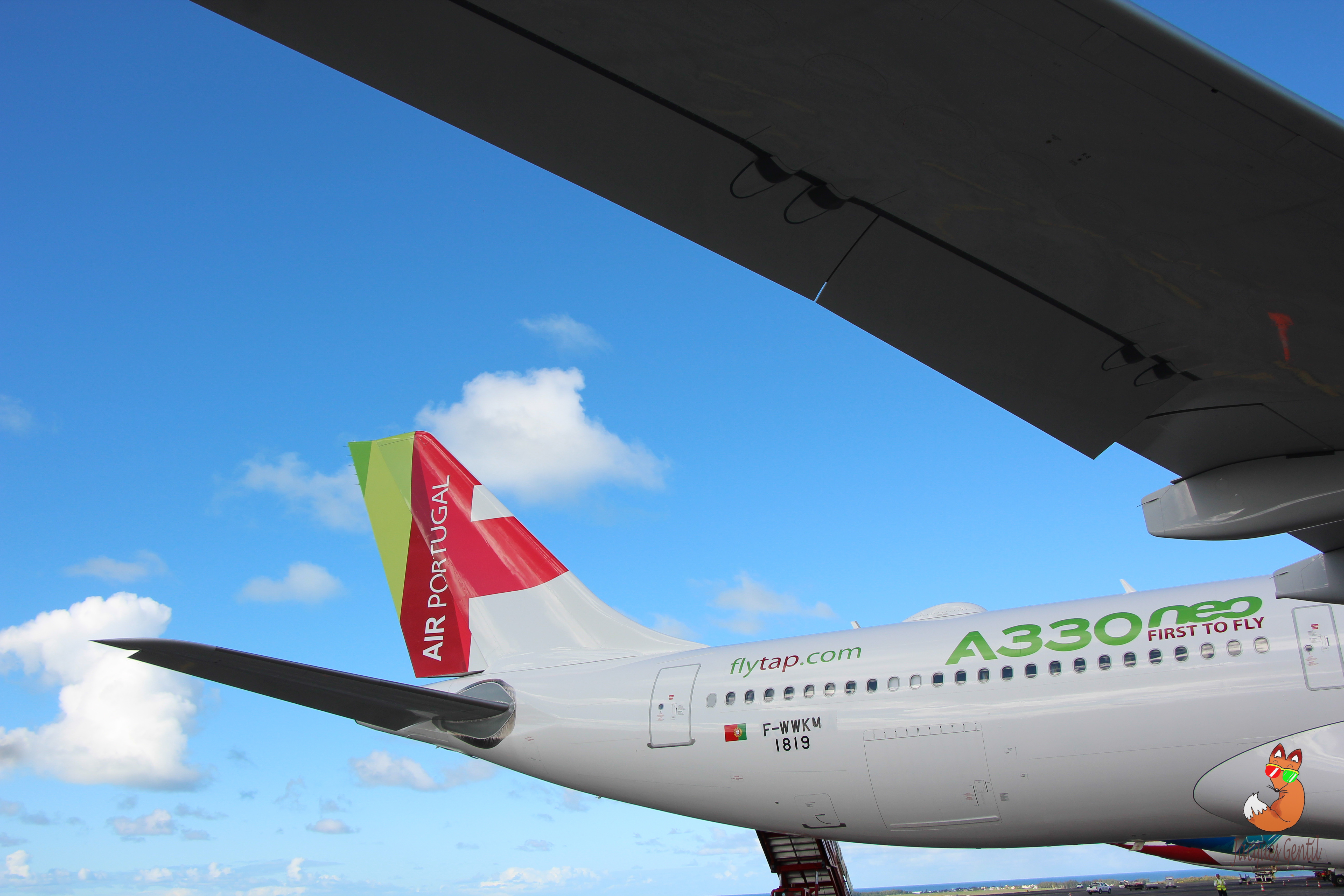 The first two are MSN 1795 & 1813
TAP founded in 1945, fleet size 84. Slogan : "With Arms Wide Open"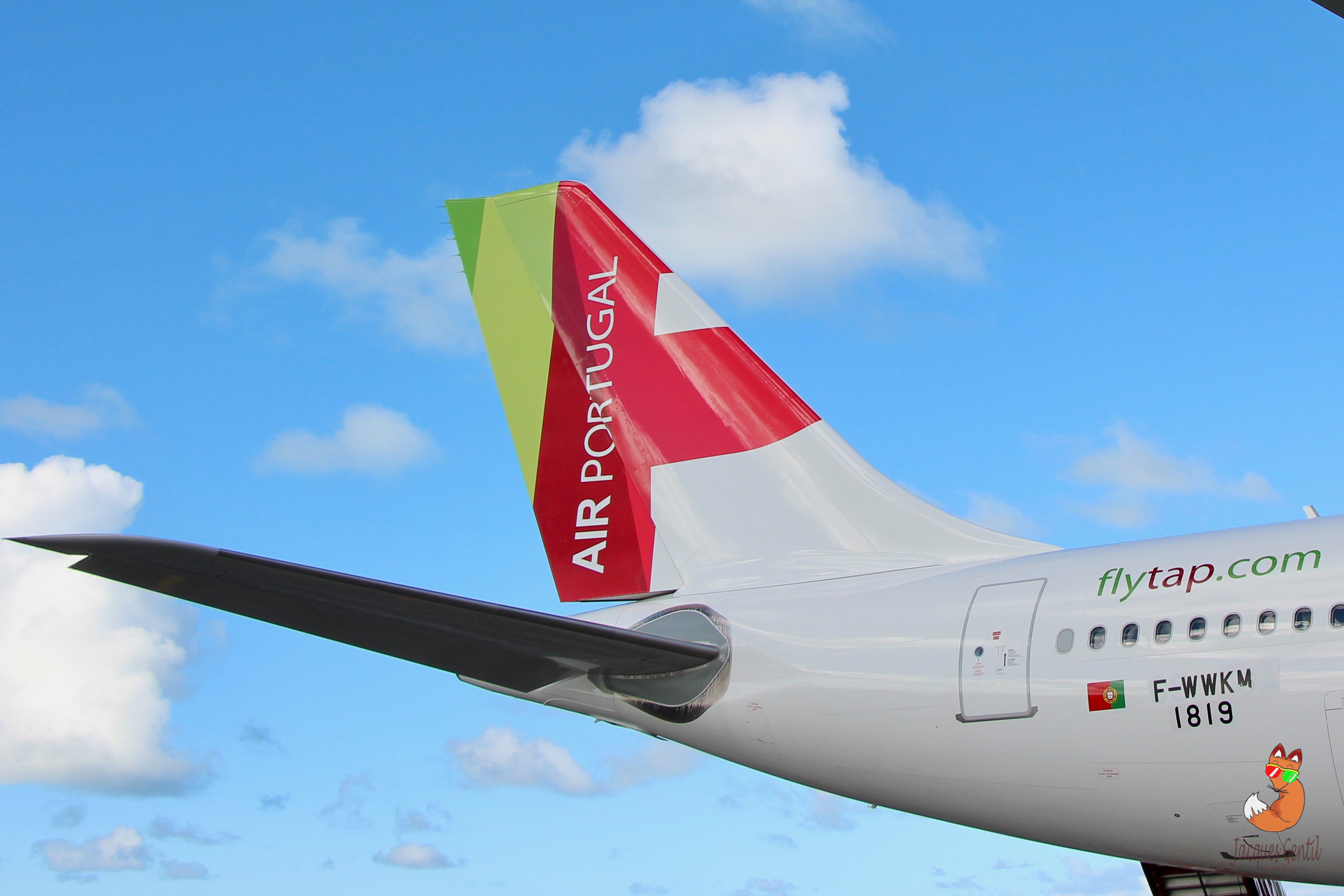 Aircraft will be delivered to TAP after completion of type certification.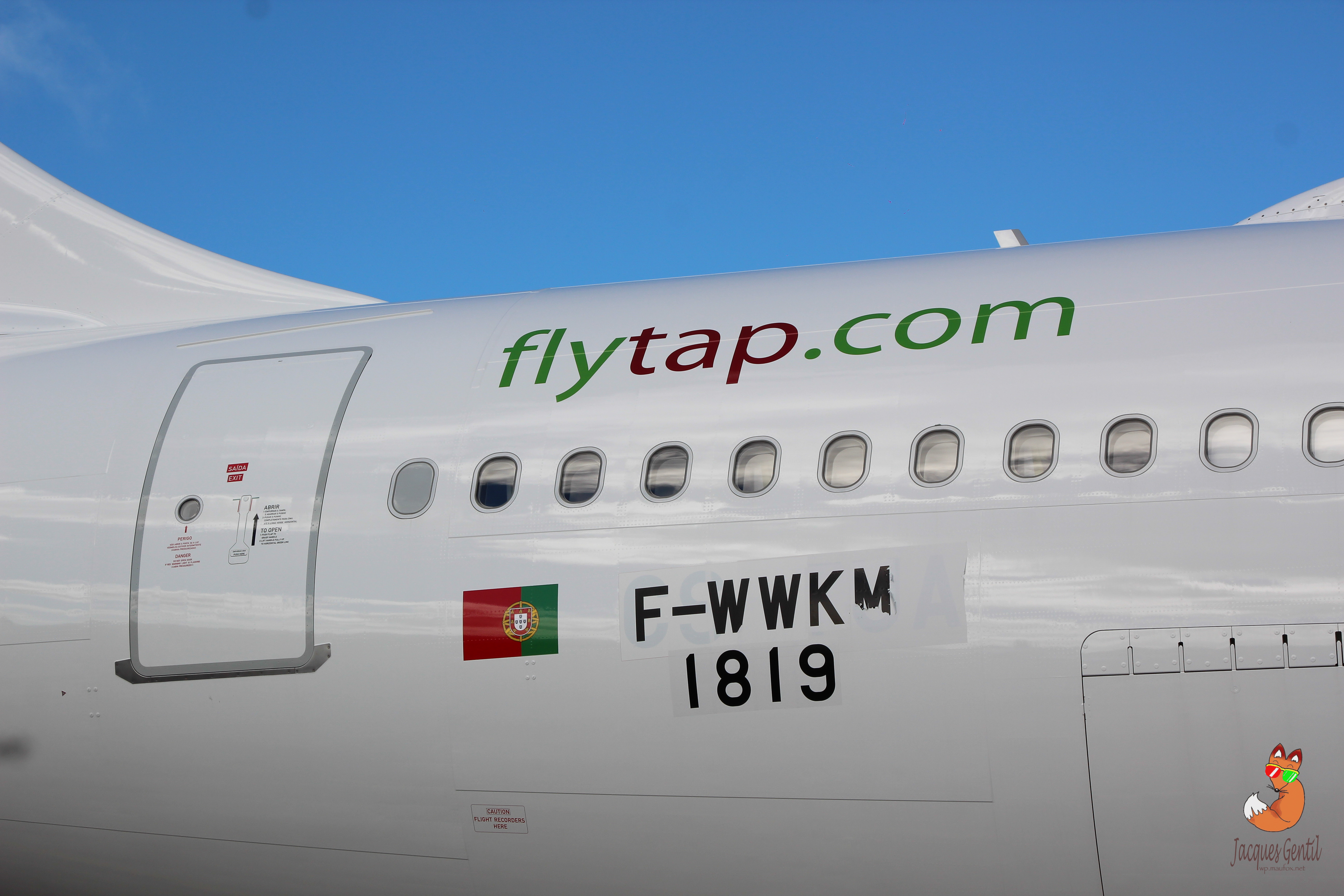 A330 new engine option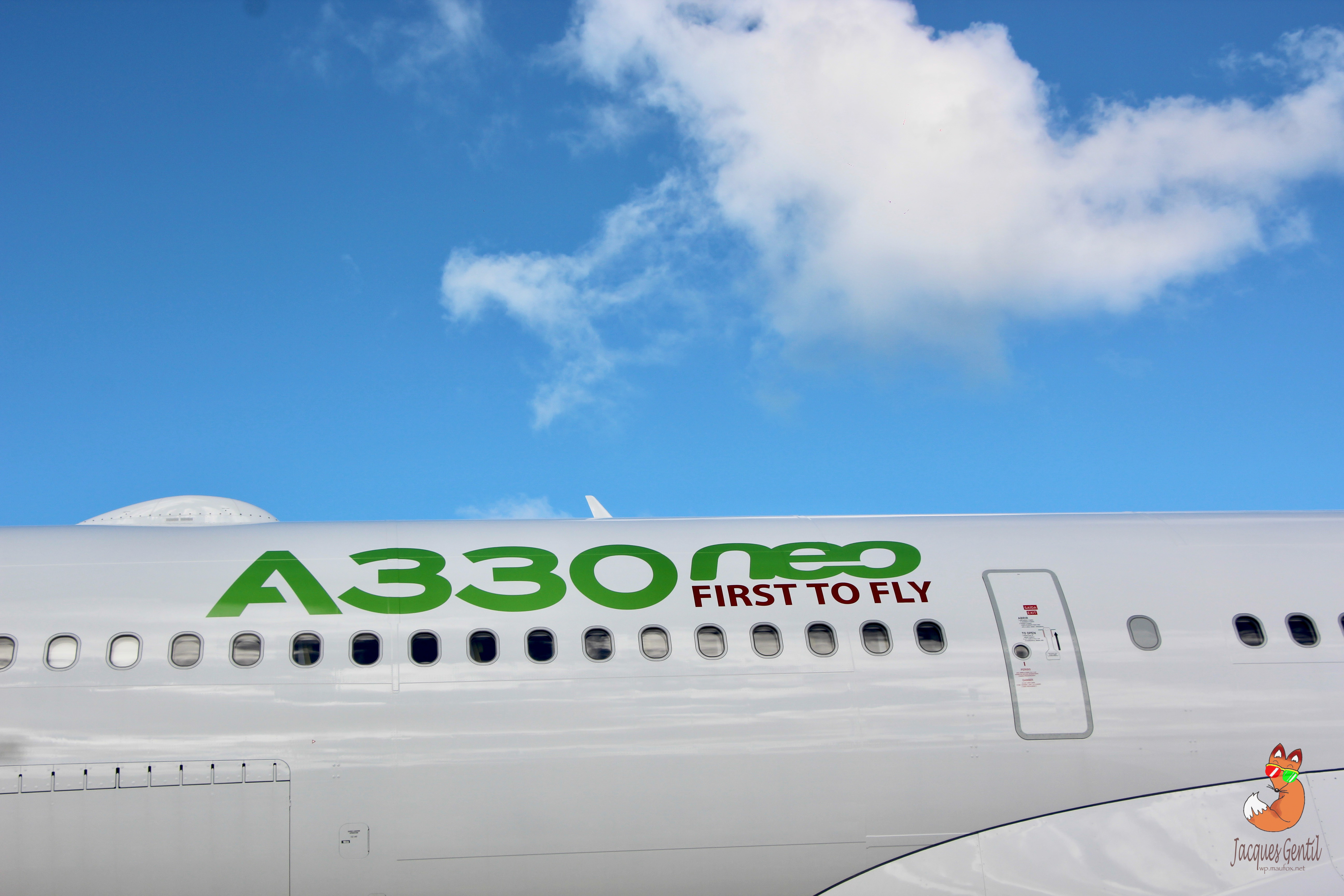 Right engine Trent 7000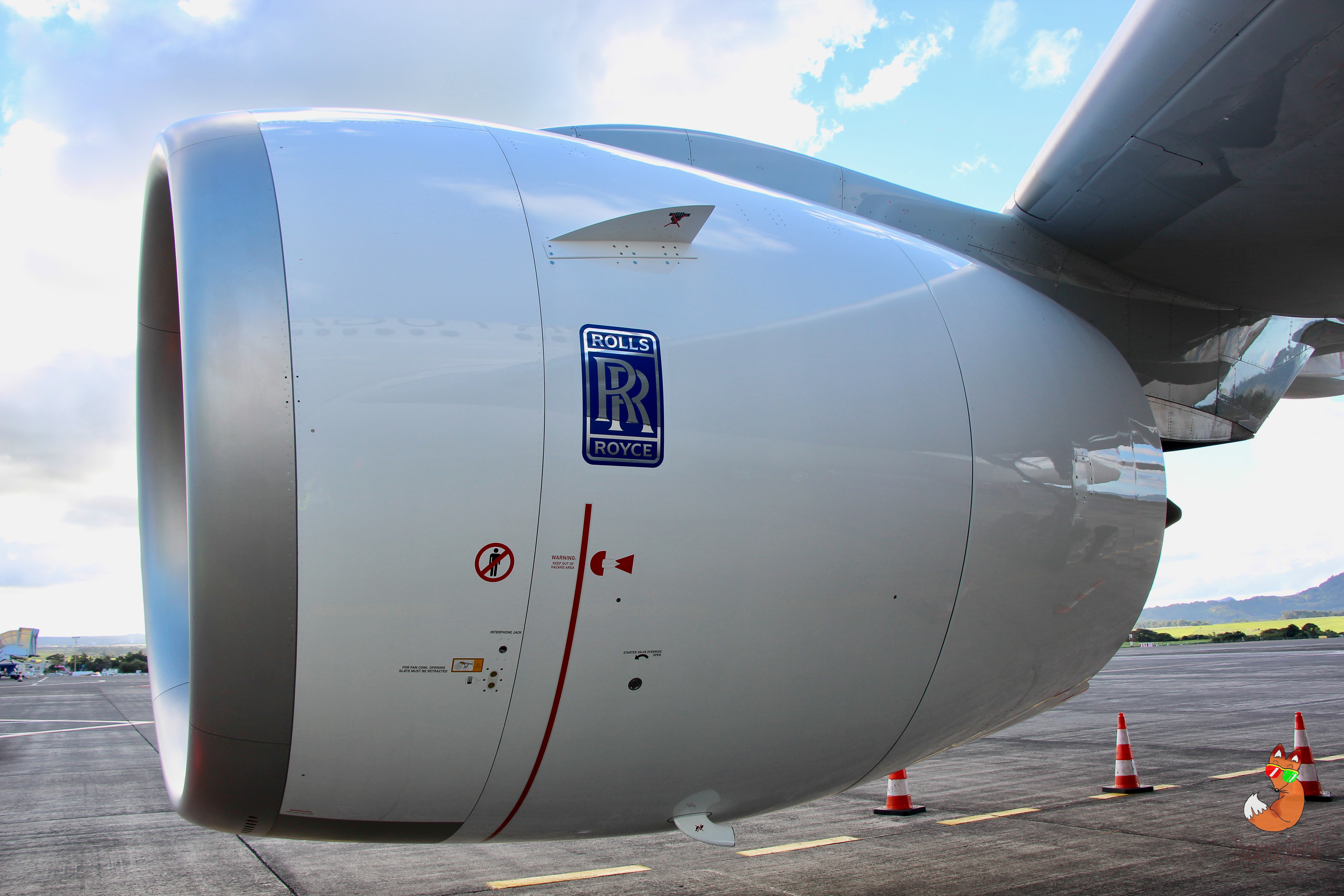 10% specific fuel consumption improvement compared to Trent 700.
112" fan diameter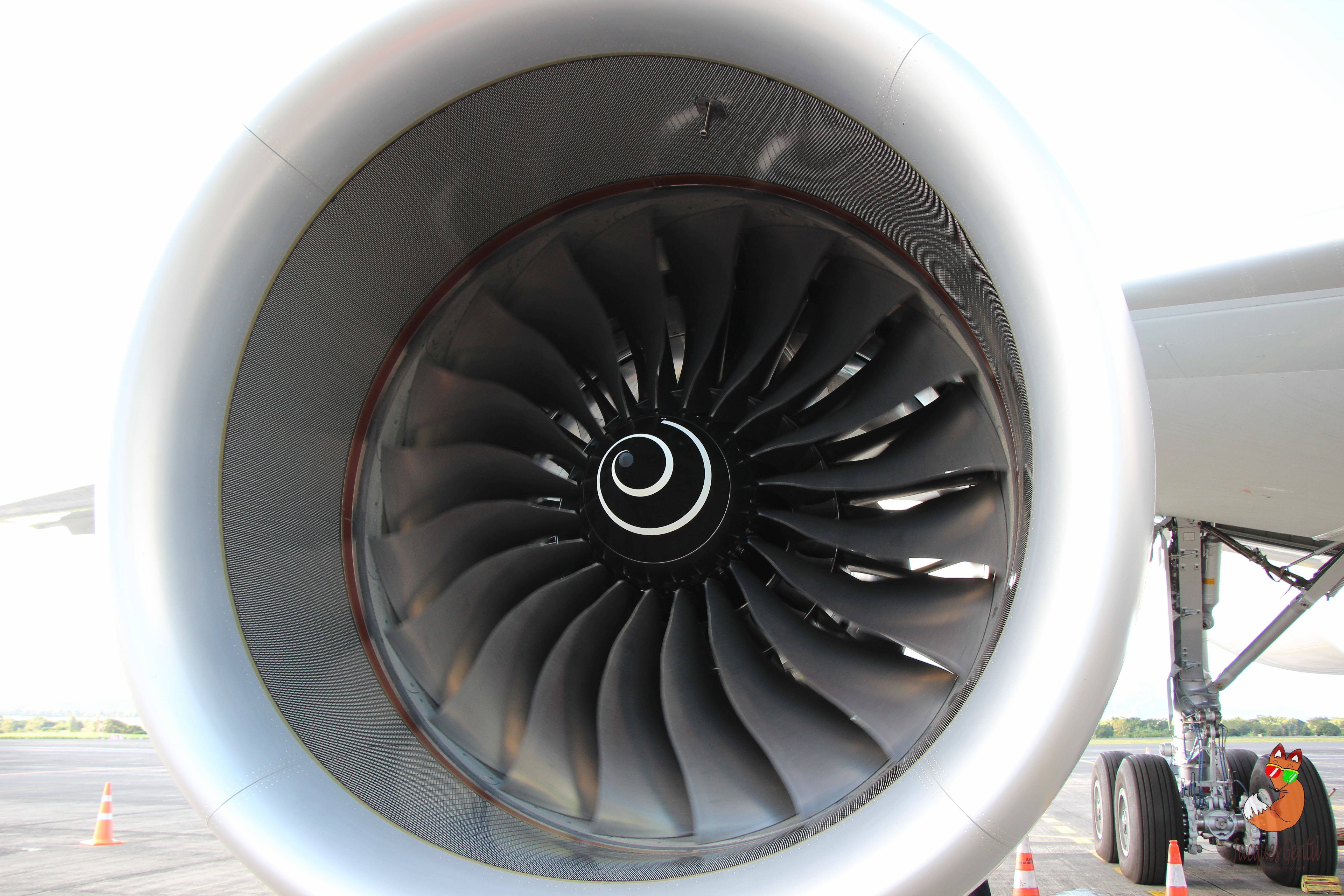 Fully swept wide chord fan, 20 titanium blades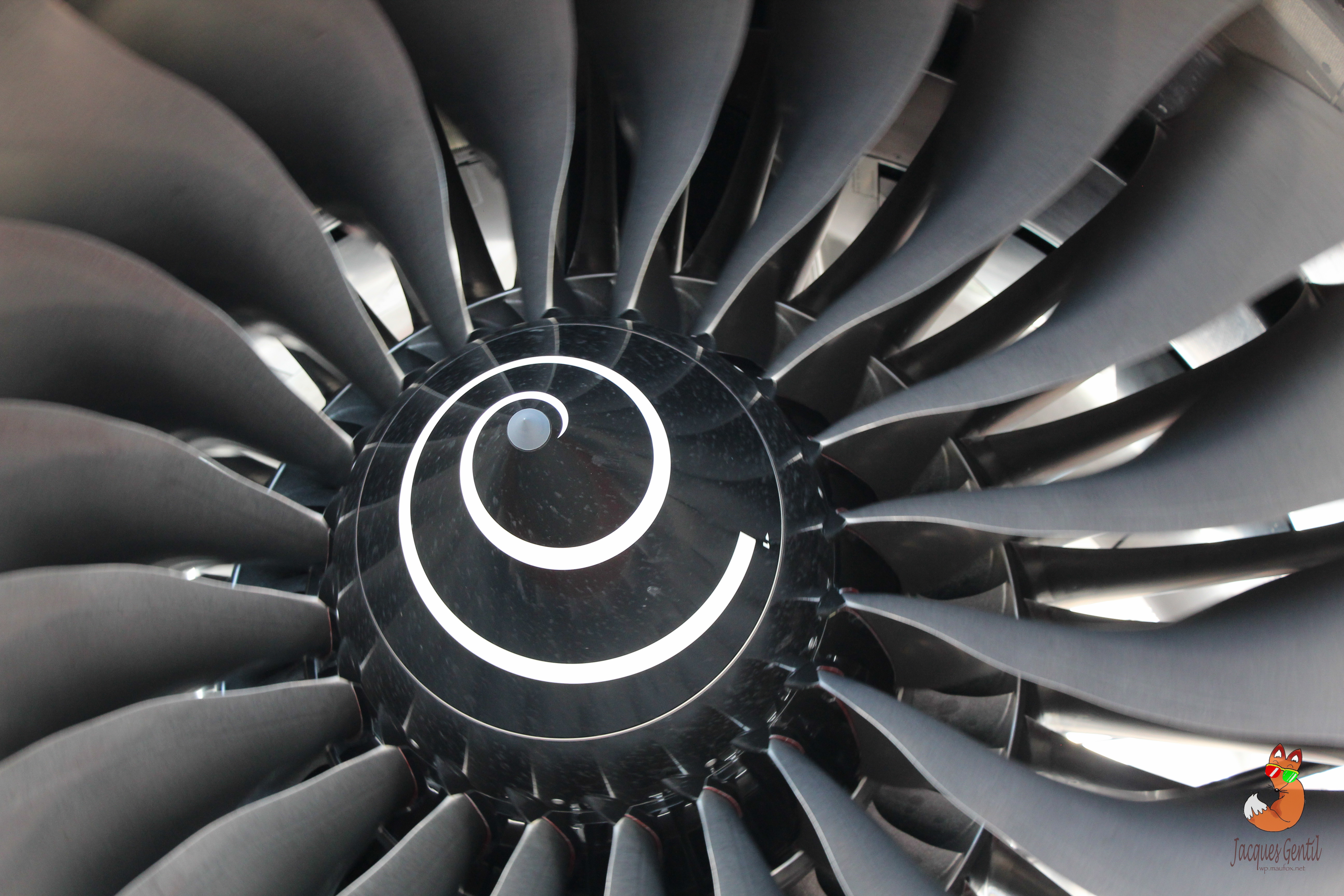 Bypass Ratio, the highest of any Trent engine 10:1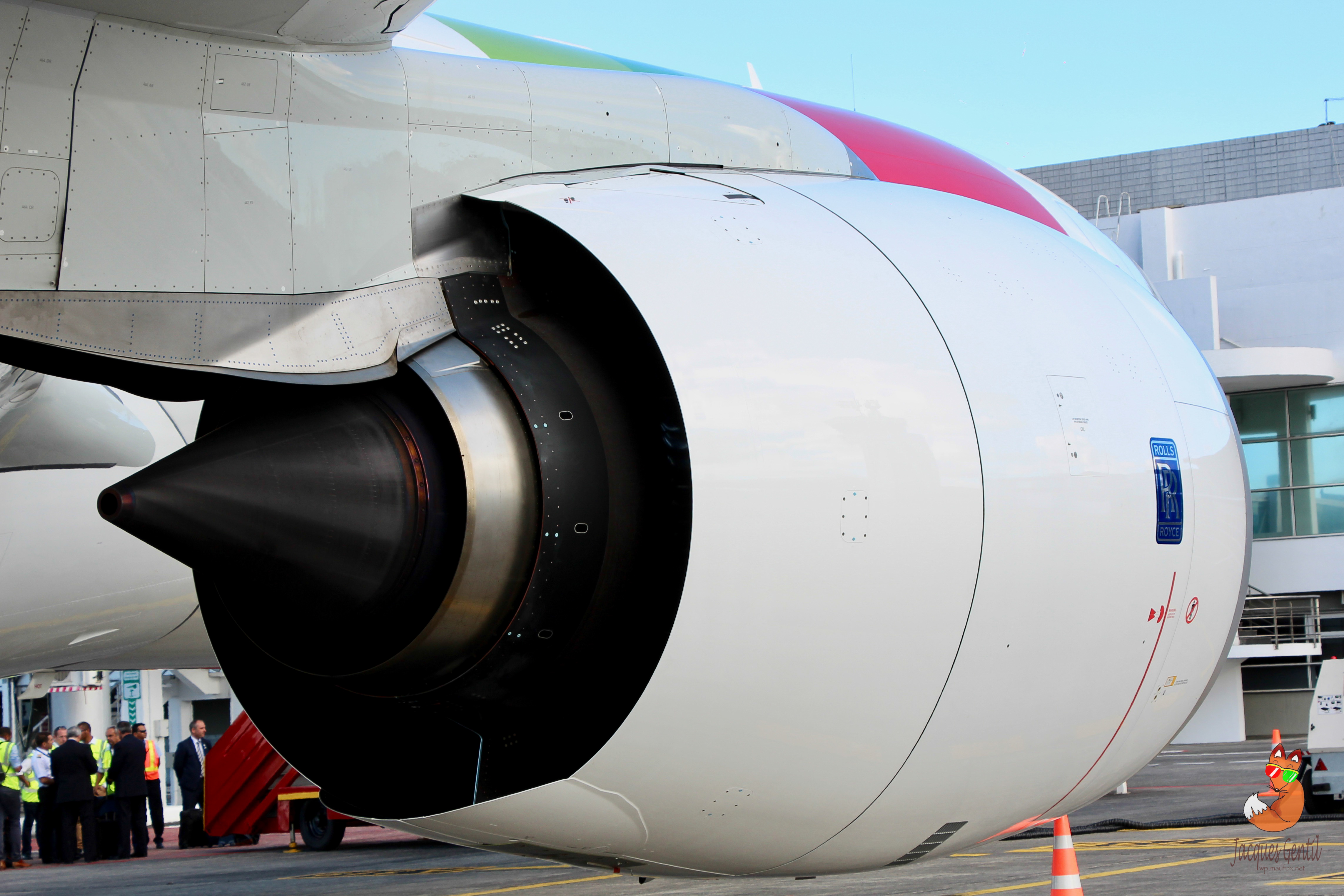 Rear view of the fan and turbine exhausts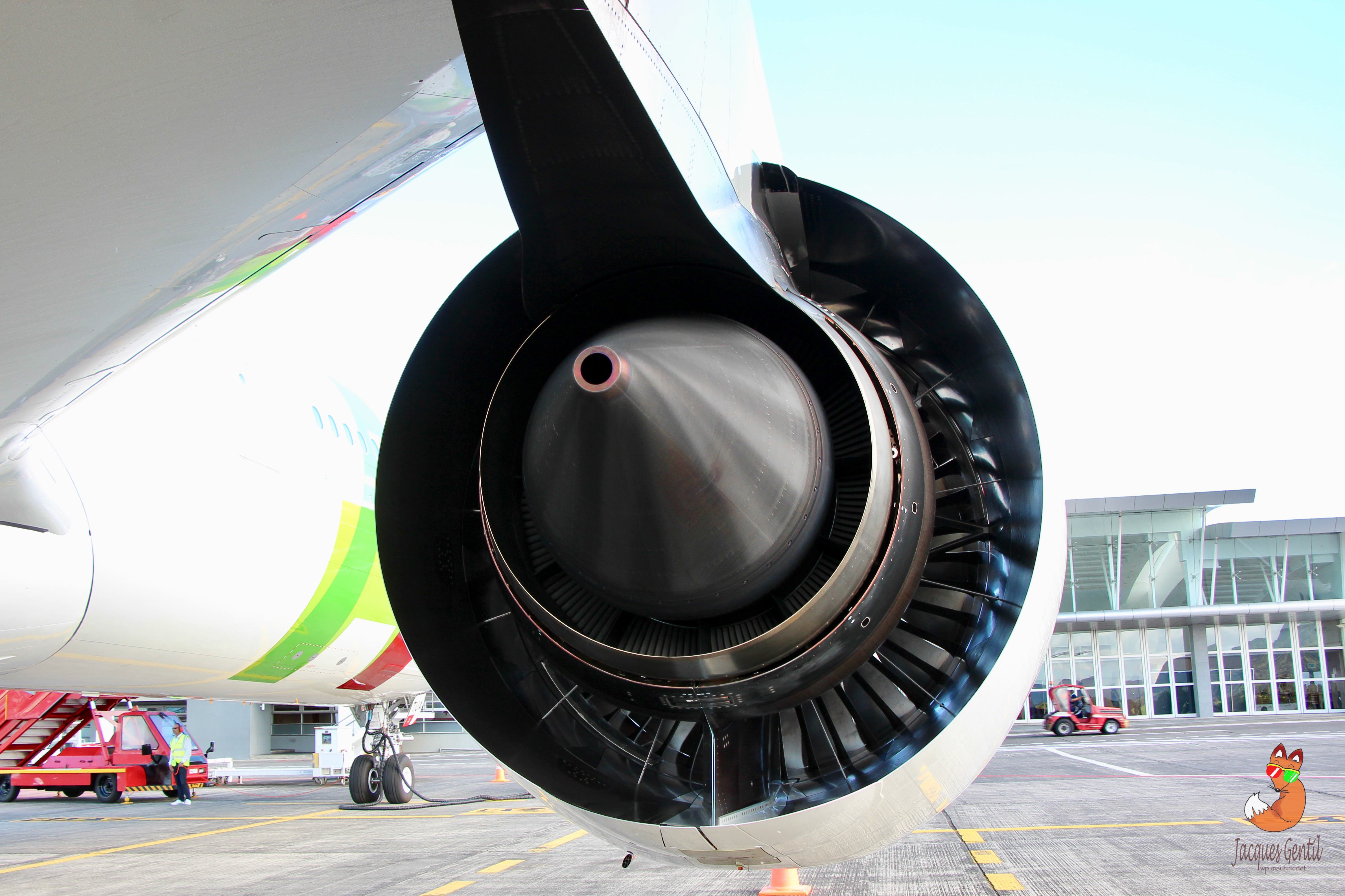 At take off the fan sucks in up to 1.3t of air every second.
Making sure the engine is protected during the night stop.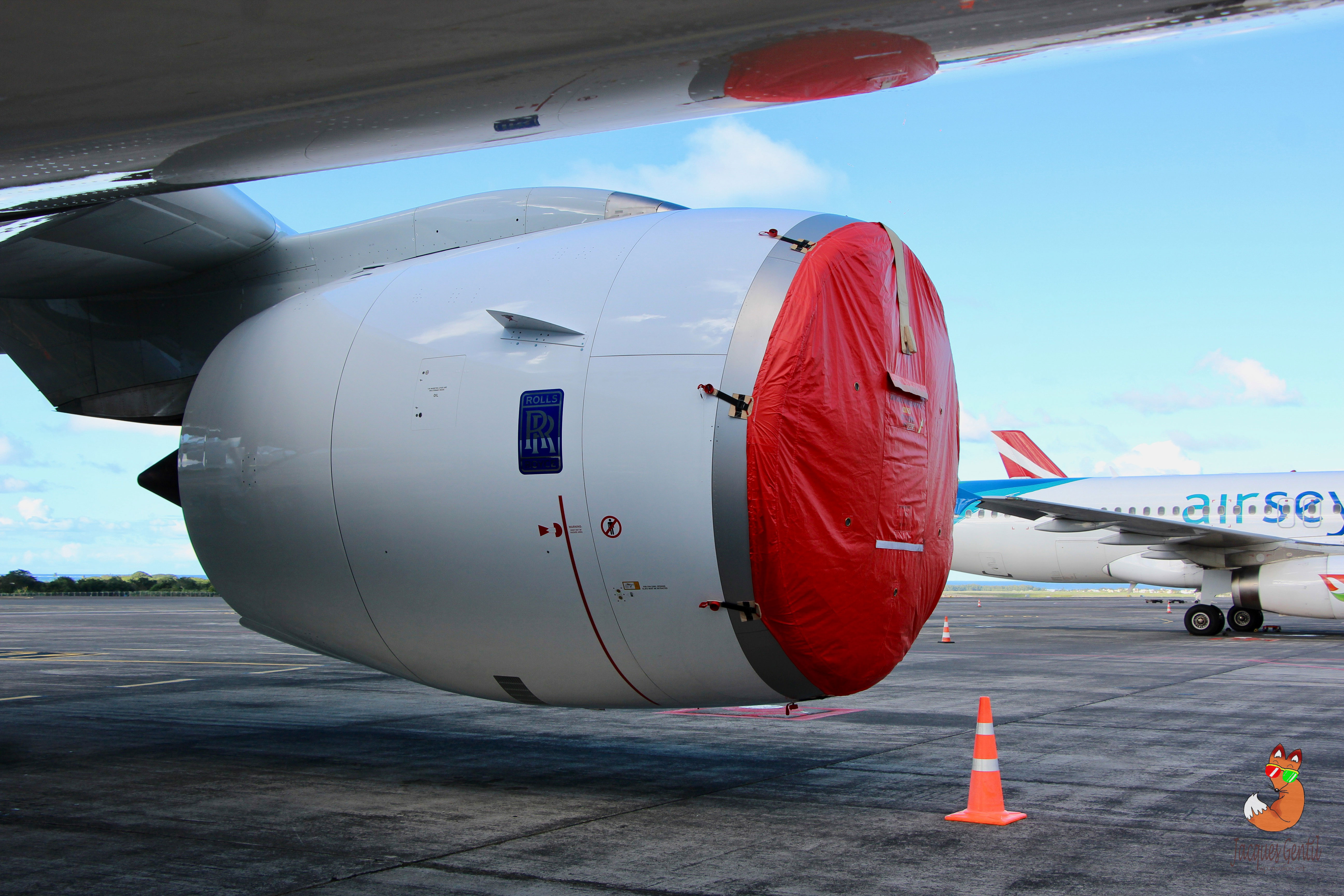 Rolls-Royce Trent 7000 cutaway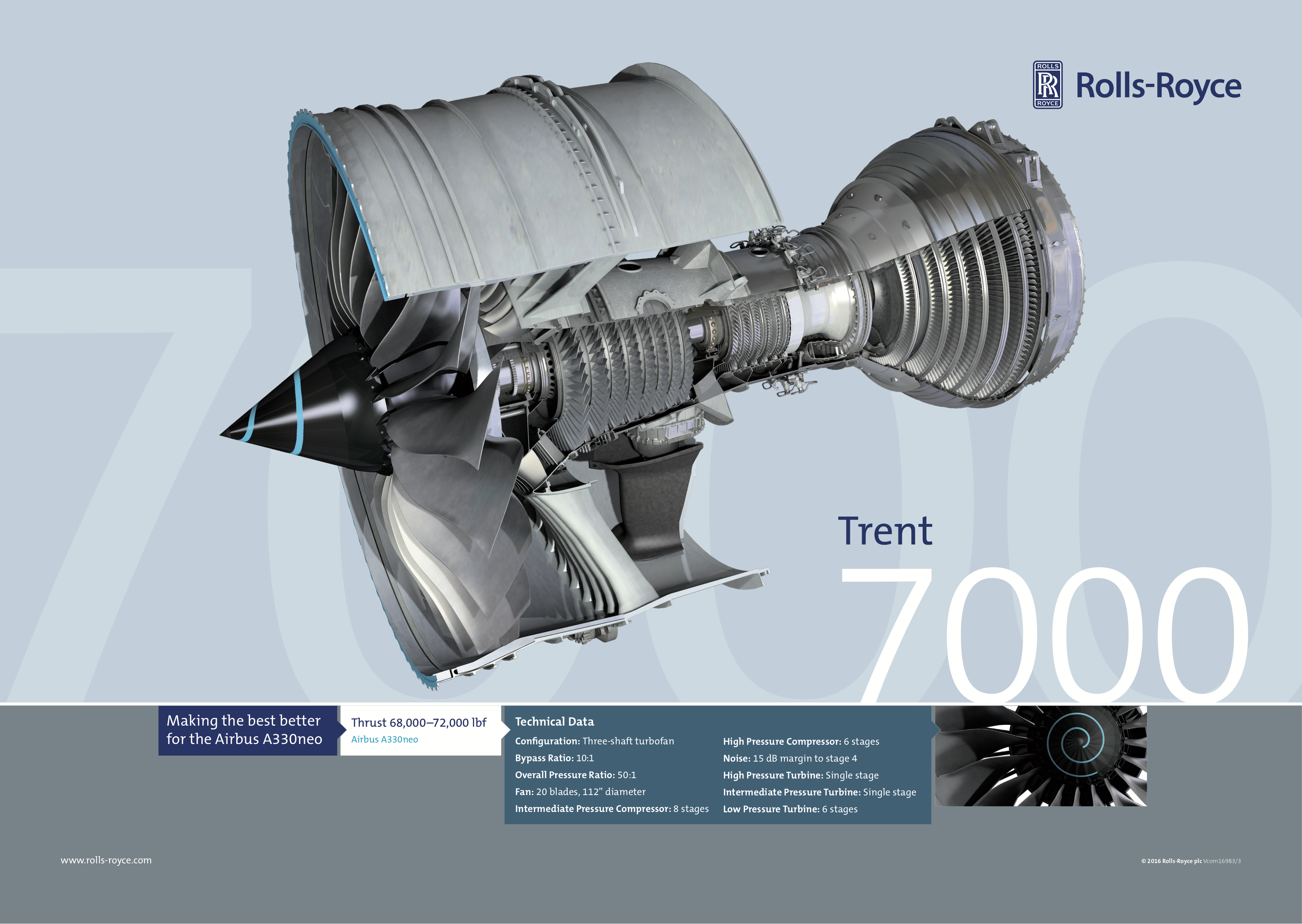 Registration when delivered to TAP CS-TUA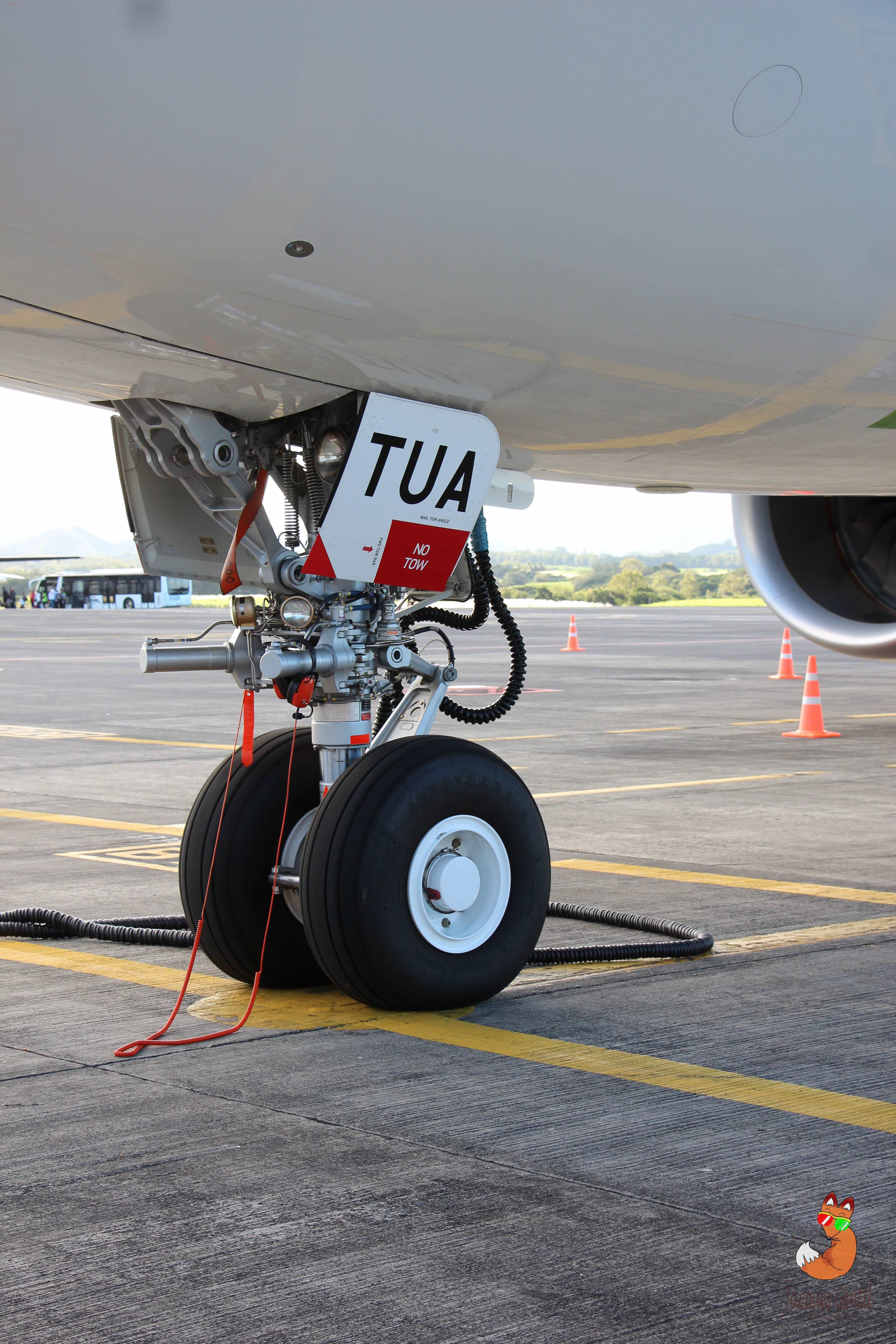 Right Hand Main Landing Gear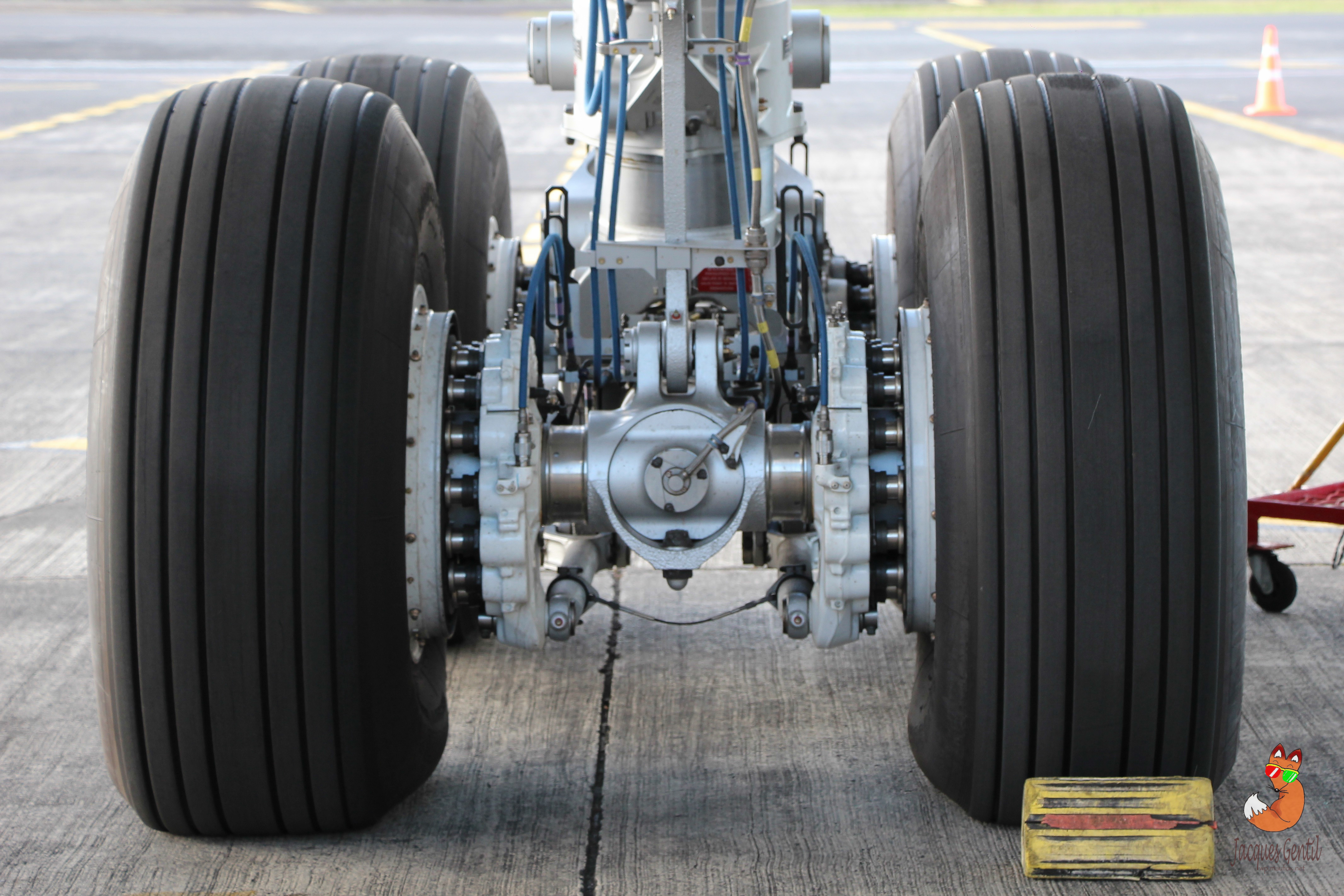 Brake cooling fans fitted on main wheels.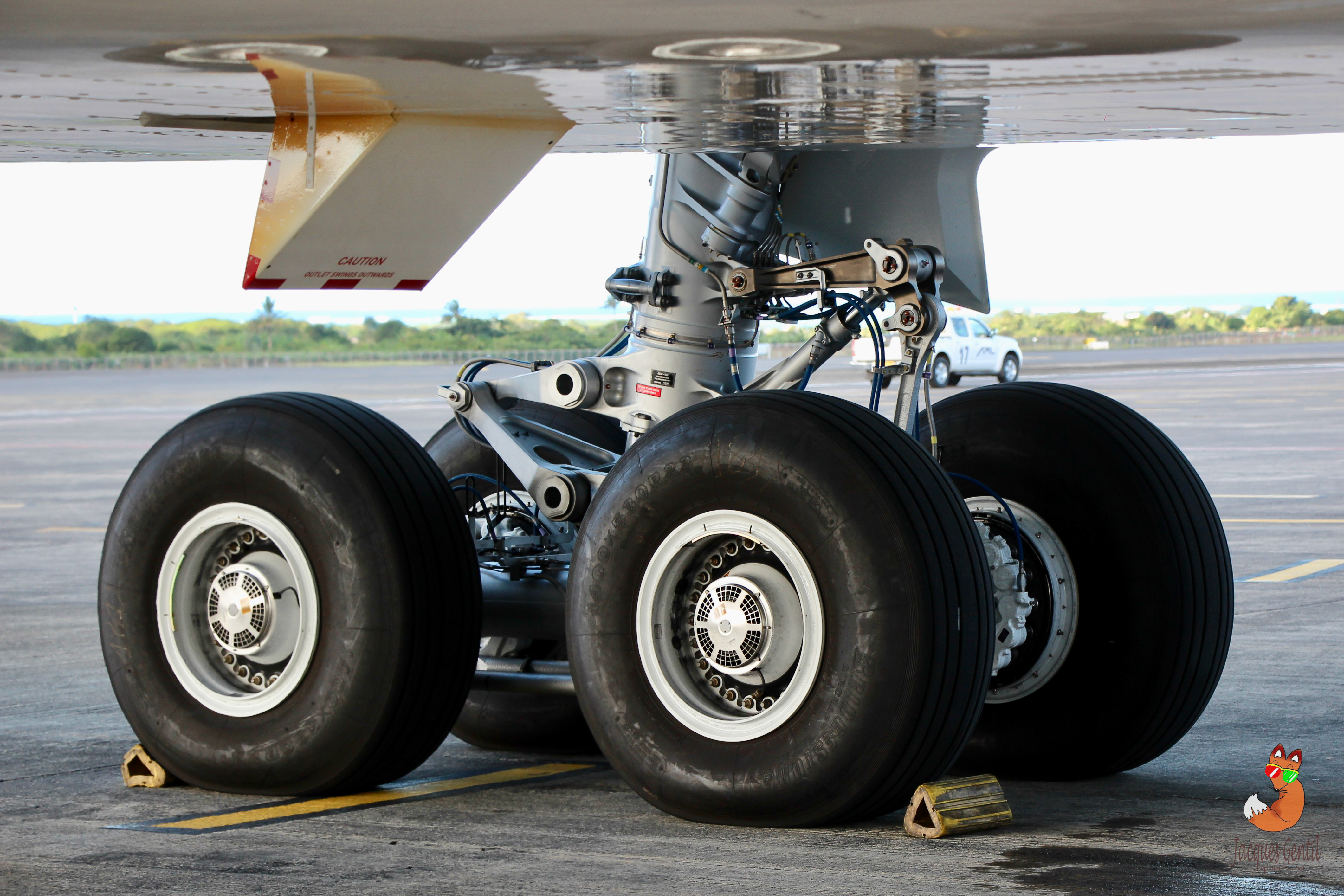 New composite sharklet for improved fuel saving.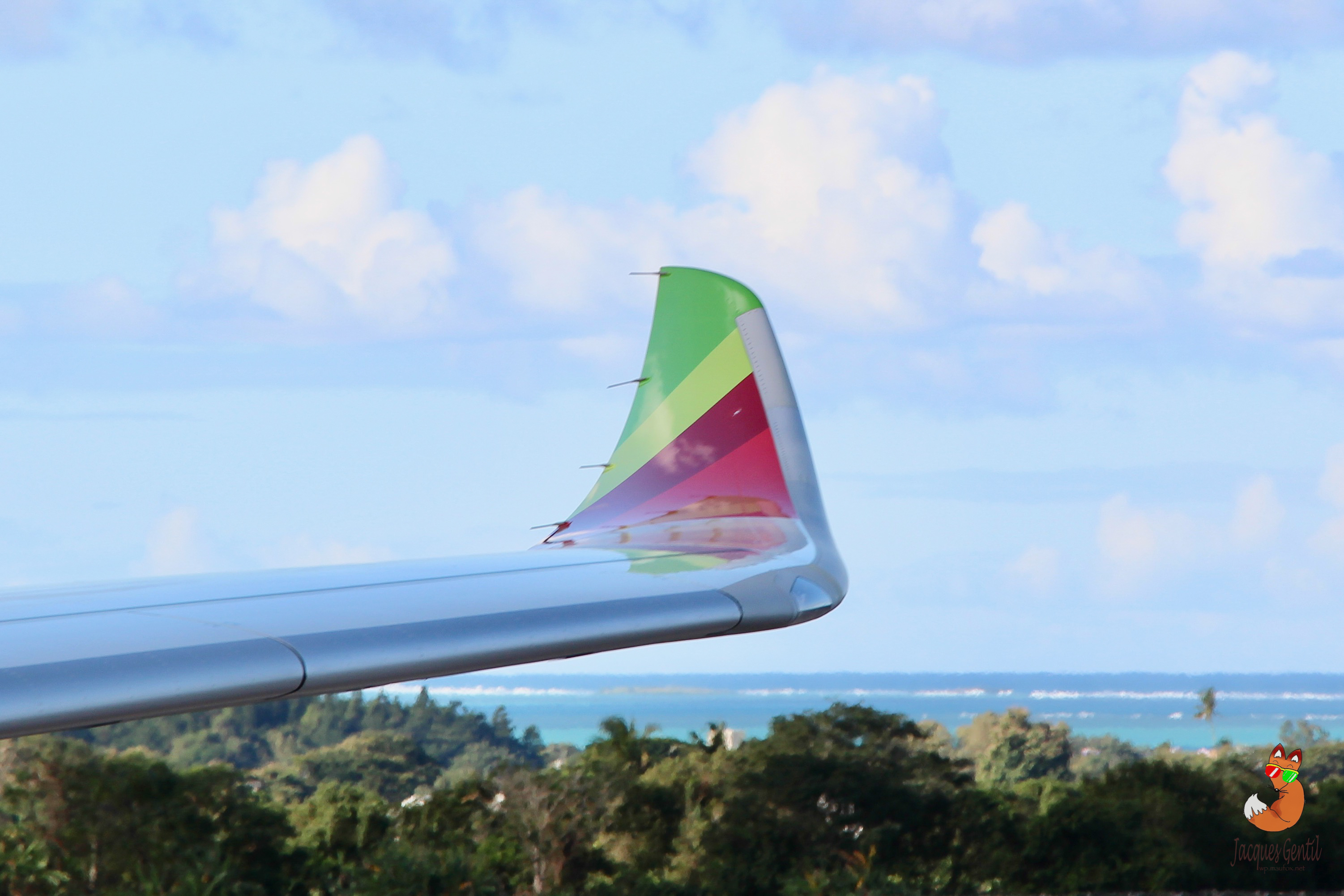 Sharklet is manufactured by Korean Air.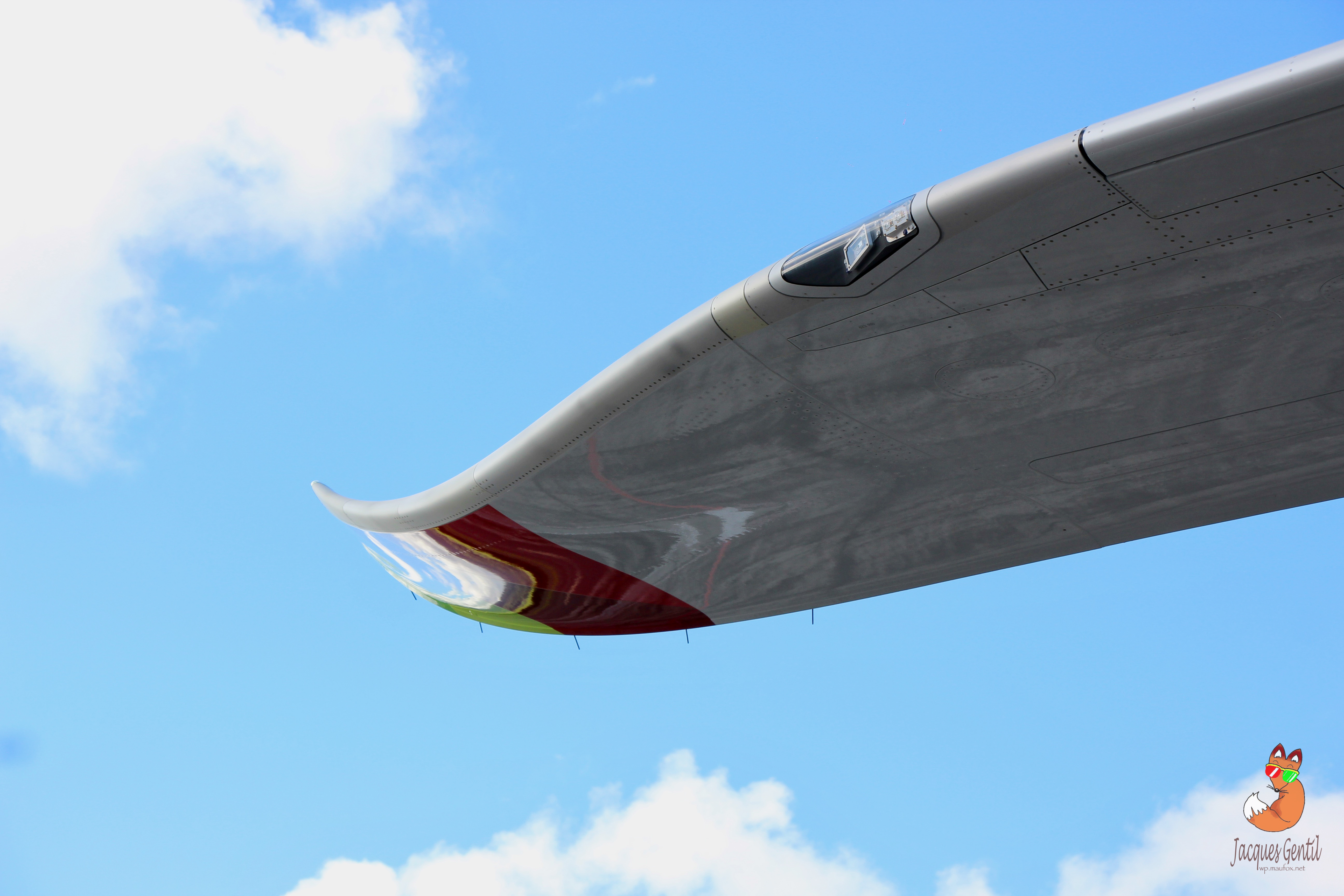 Sharklet flatter than the A350.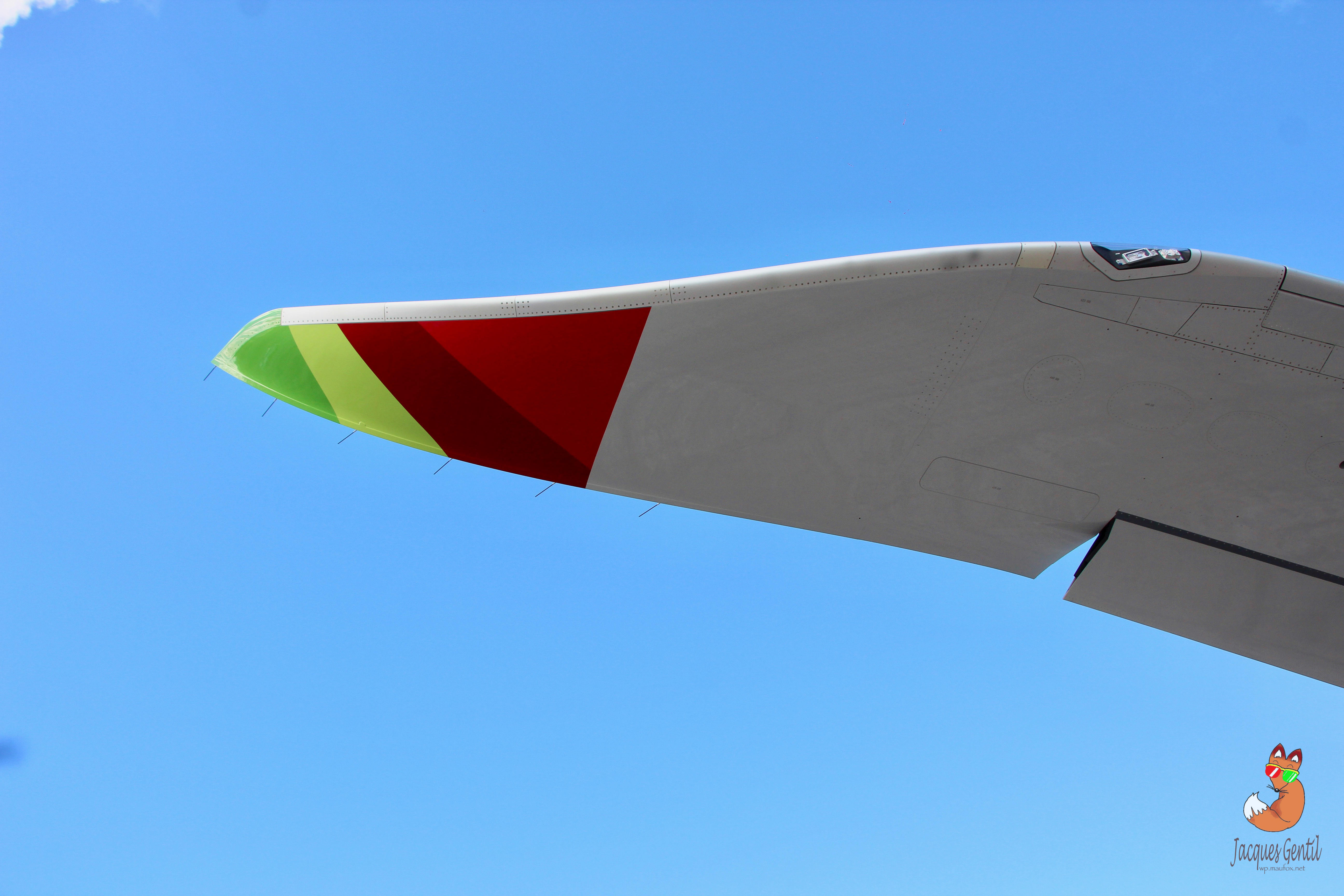 Sharklets increase wing span by 3.7m.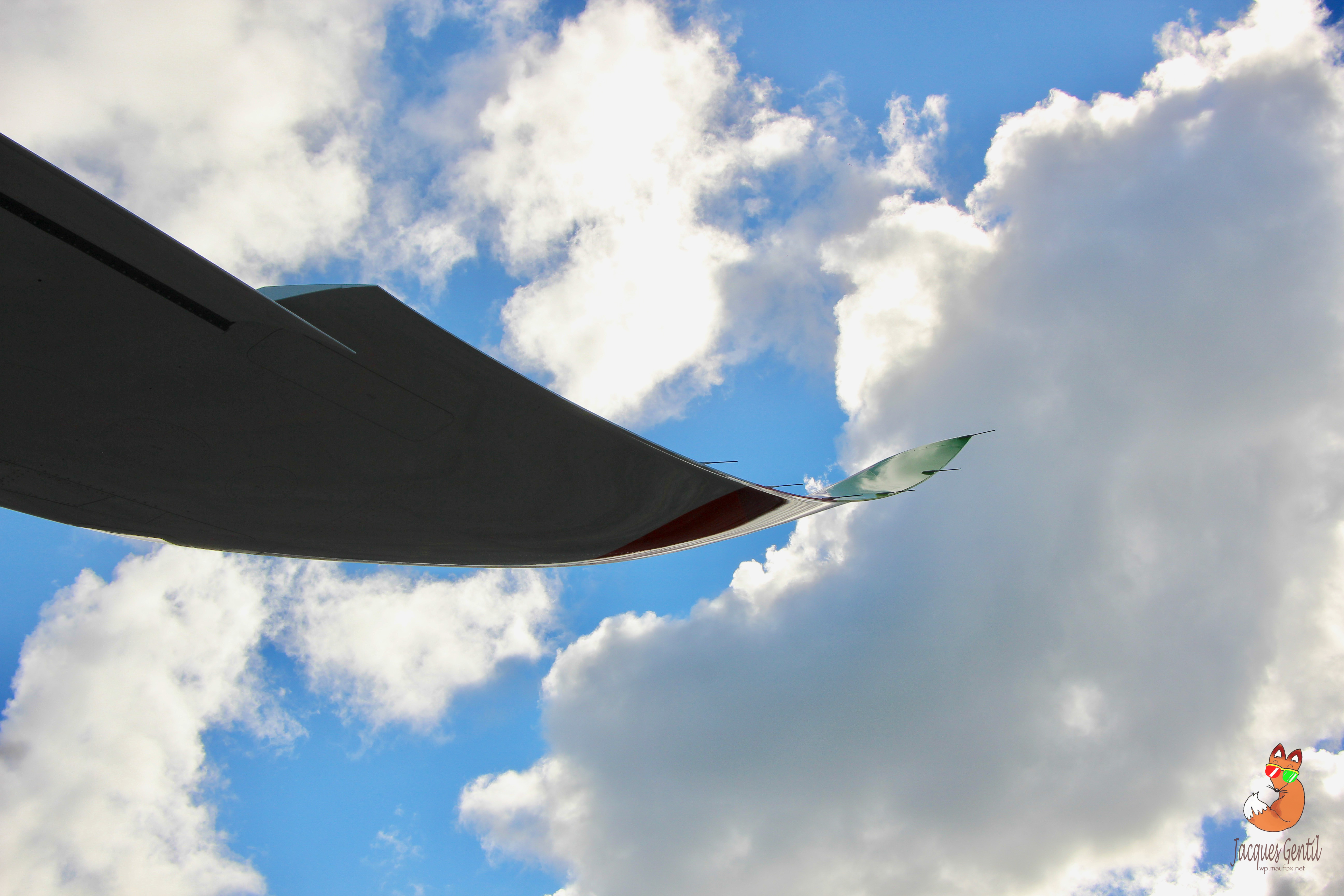 Upgraded cockpit systems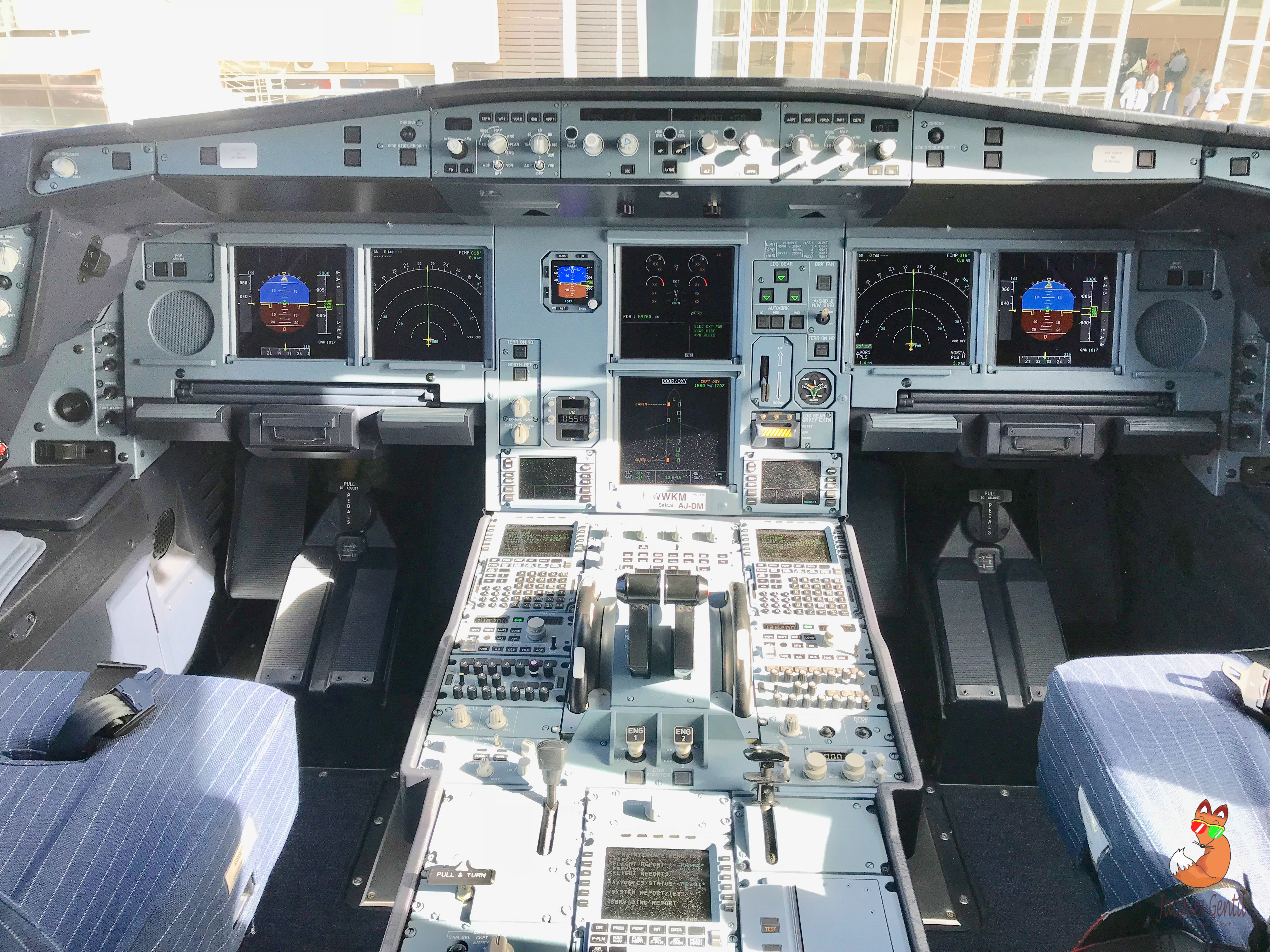 Overhead cockpit panel.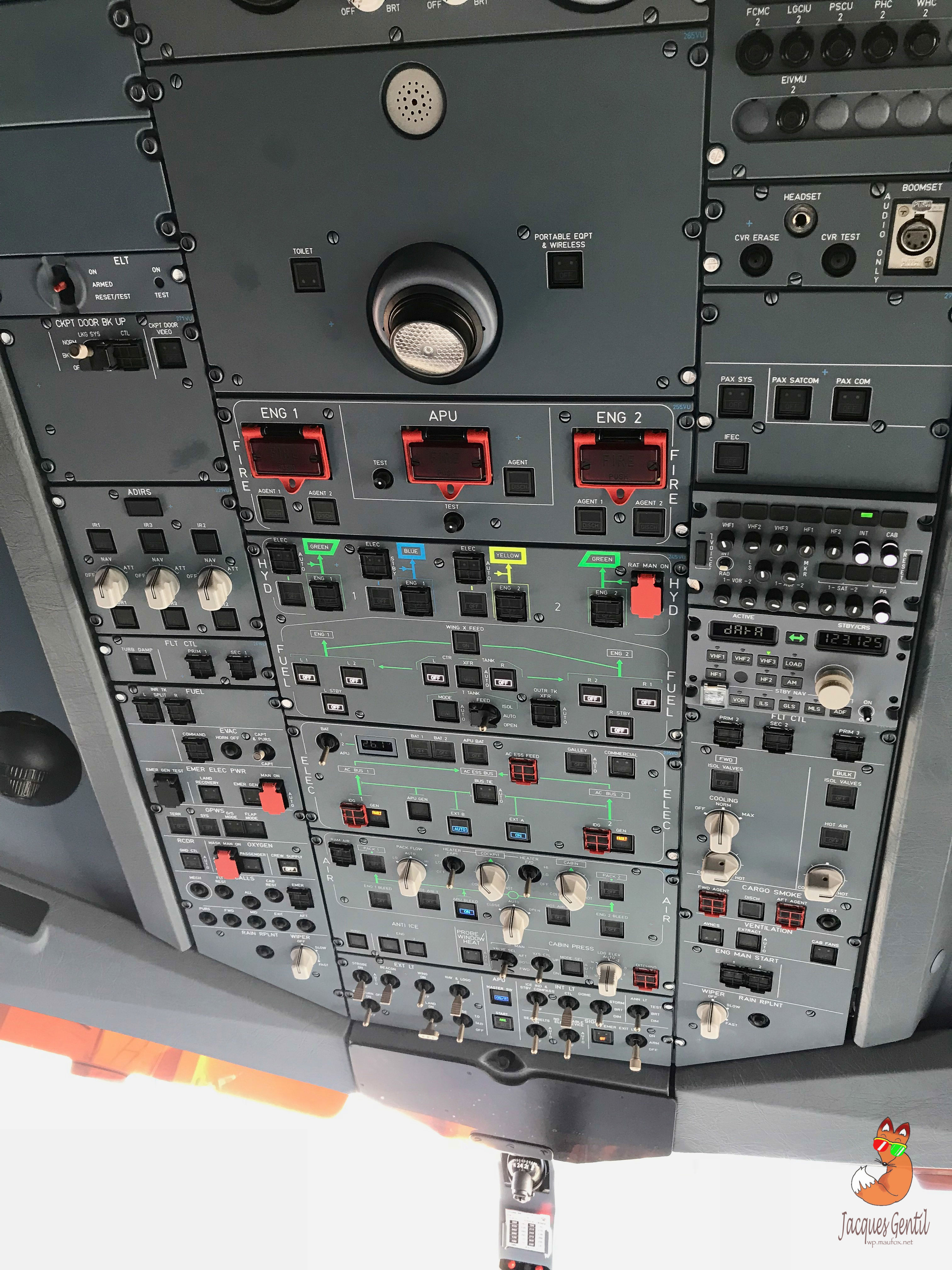 Right hand display units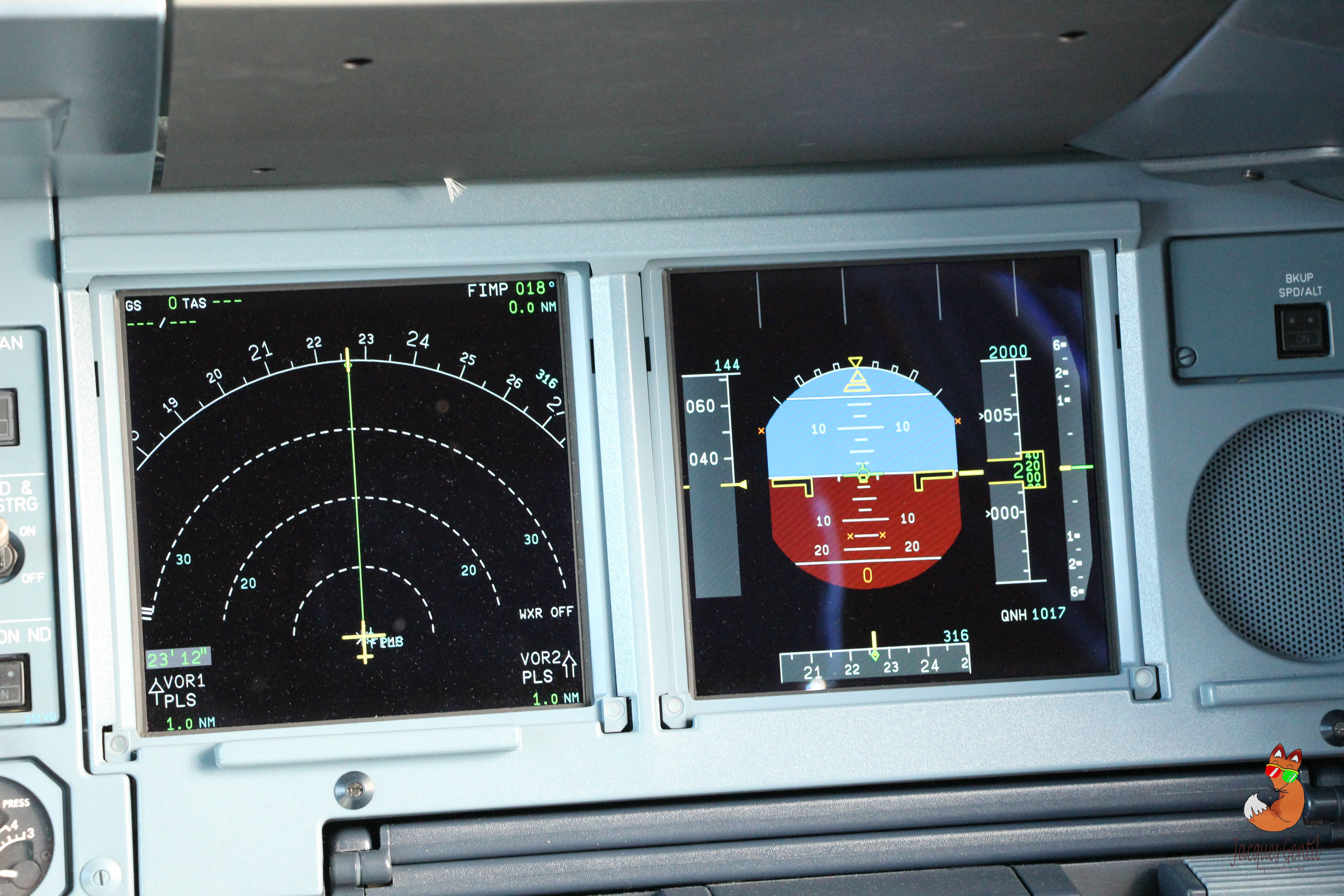 Navigation Display (ND) and Primary Flight Display (PDF)
Temporary registration F-WWKM.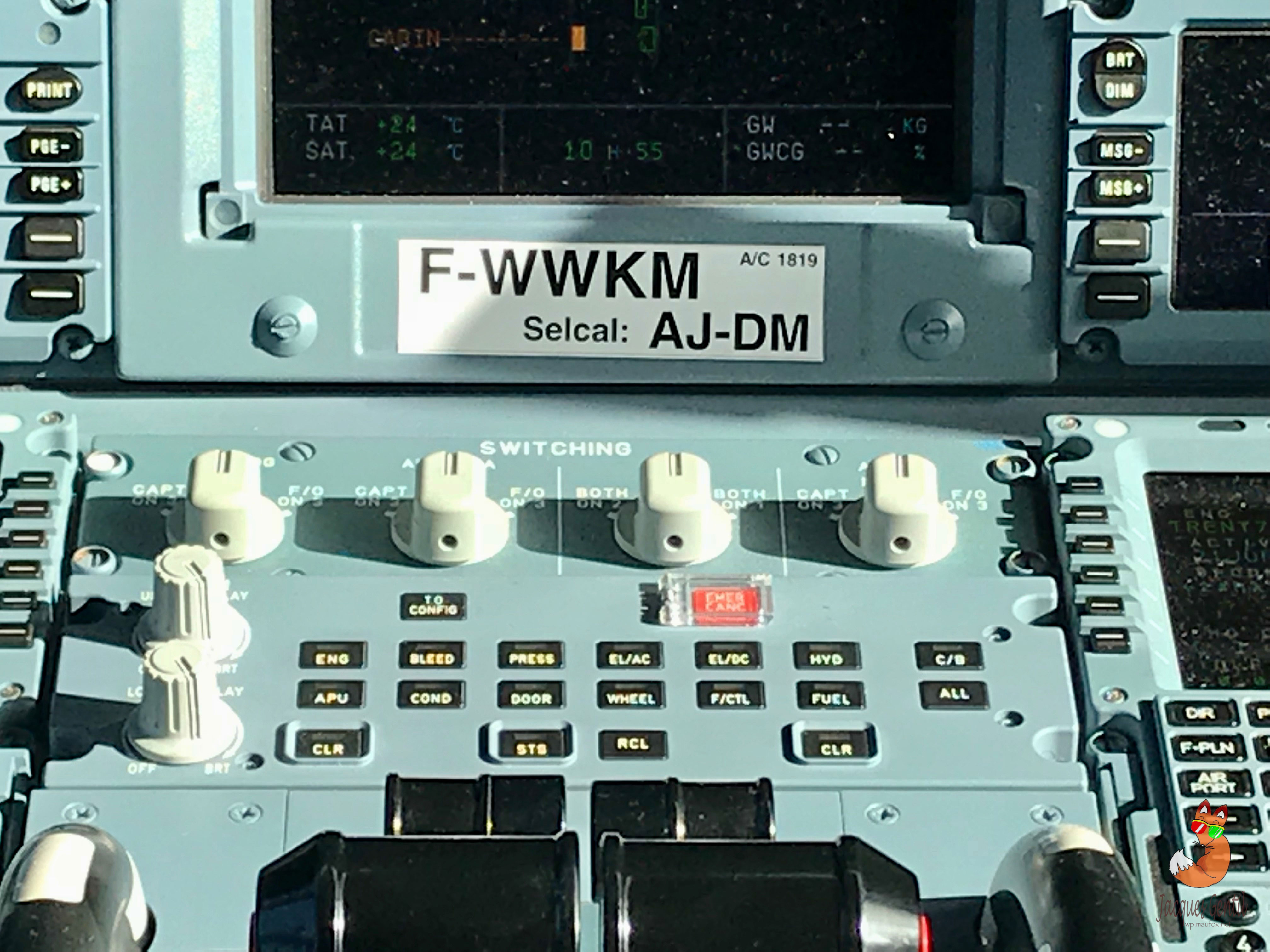 Business cabin 1-2-1 layout. 34 seats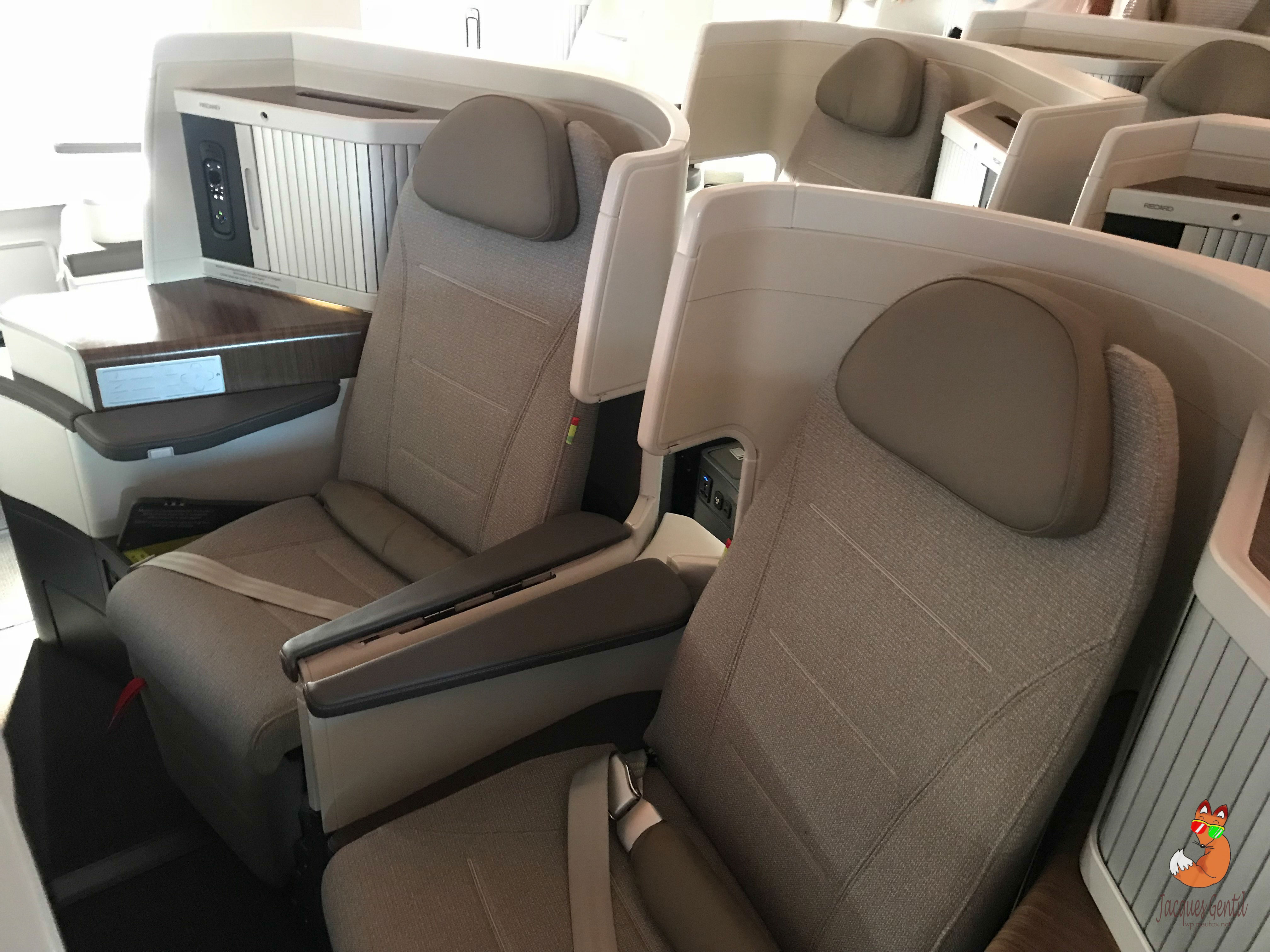 Consumer Centric cabin : Air Space cabin by Airbus.
Recaro CL6710 flat-bed seats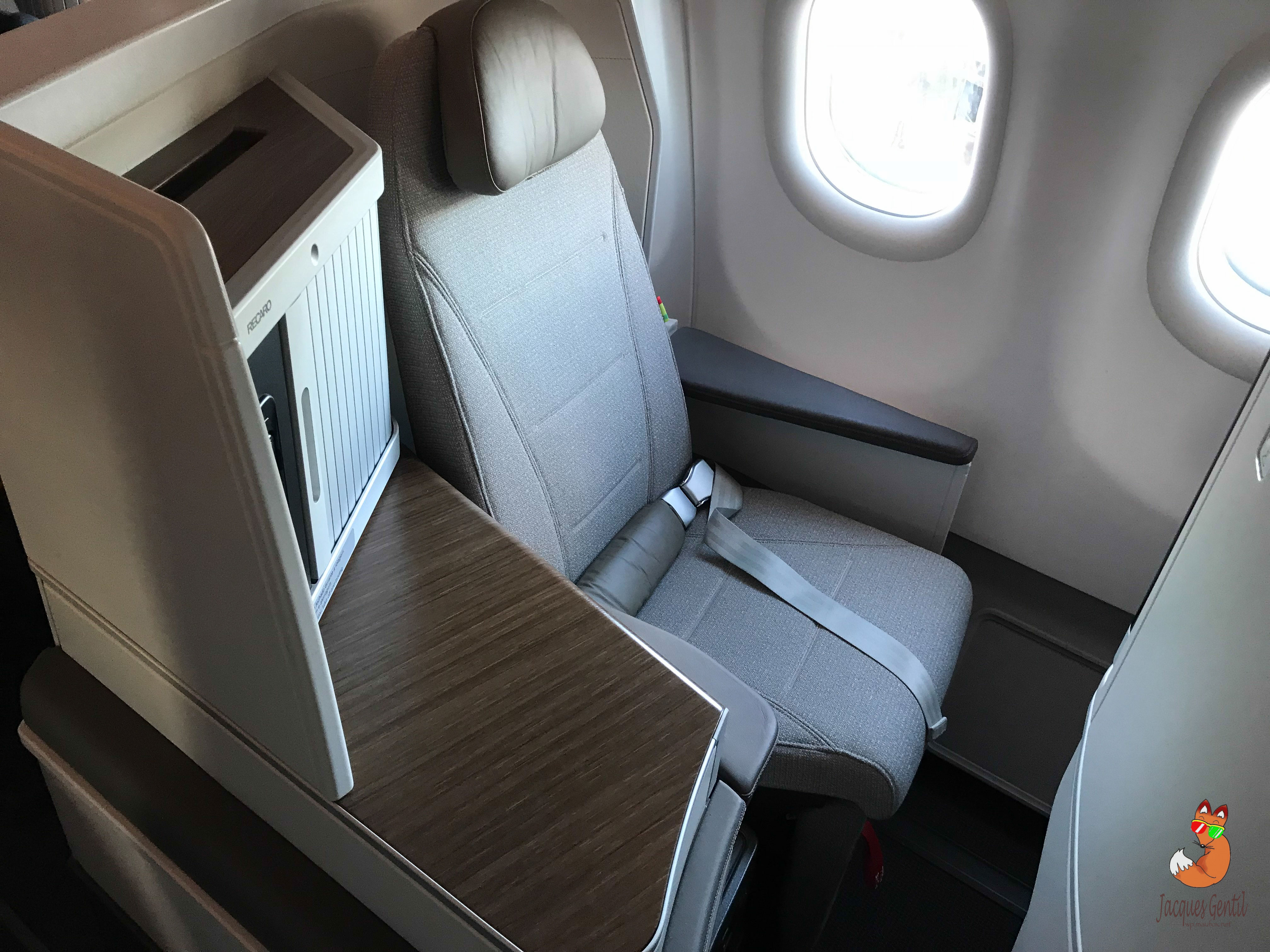 Panasonic EX3 IFE and Ku band Wi-Fi.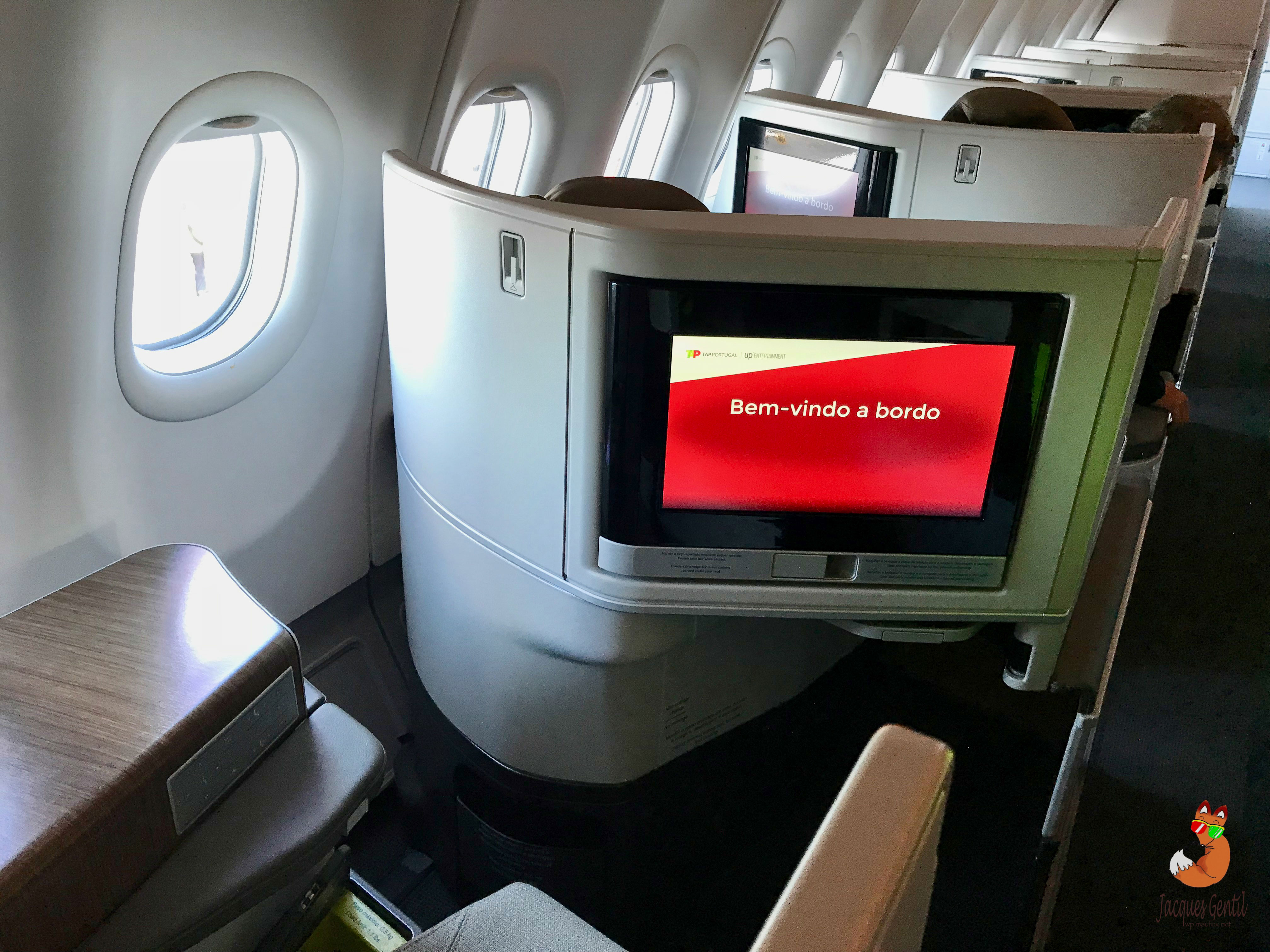 Temporary flight test instrumentation during test phase in forward economy cabin.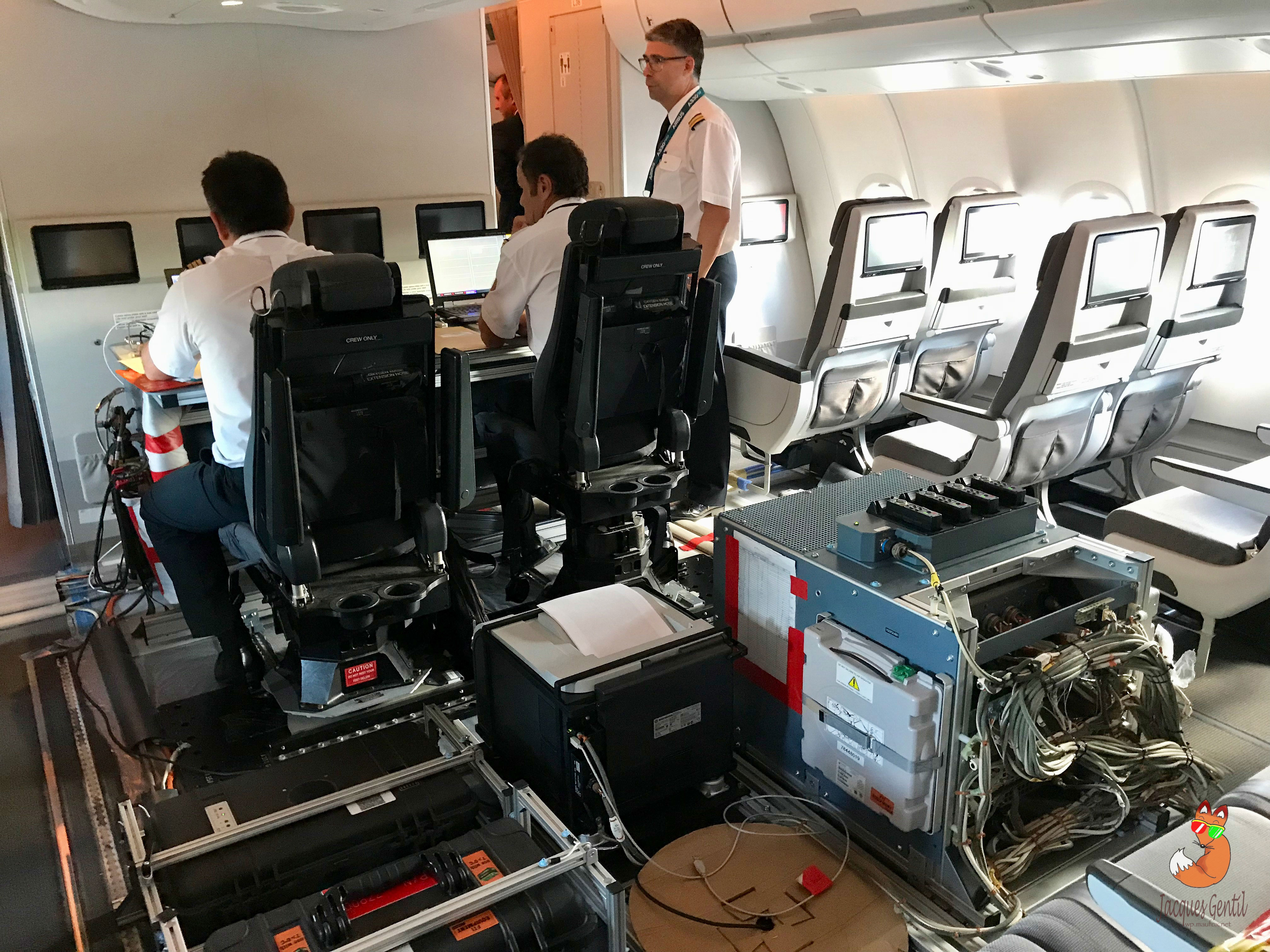 Economy cabin 2-4-2 layout.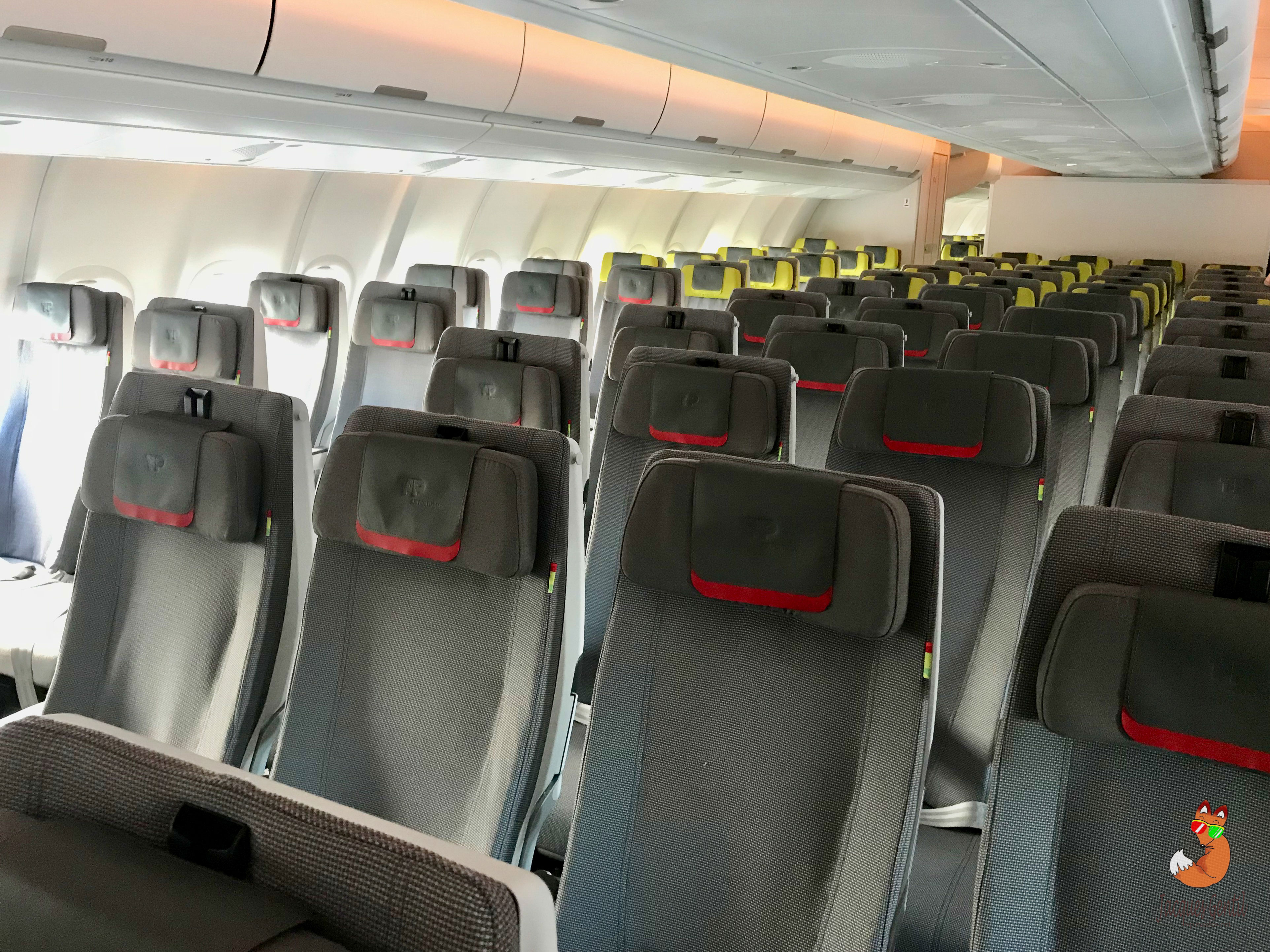 Yellow headrest pitch at 31". 68 seats
Recaro CL3710 seats, red stripe pitch at 34''. 96 seats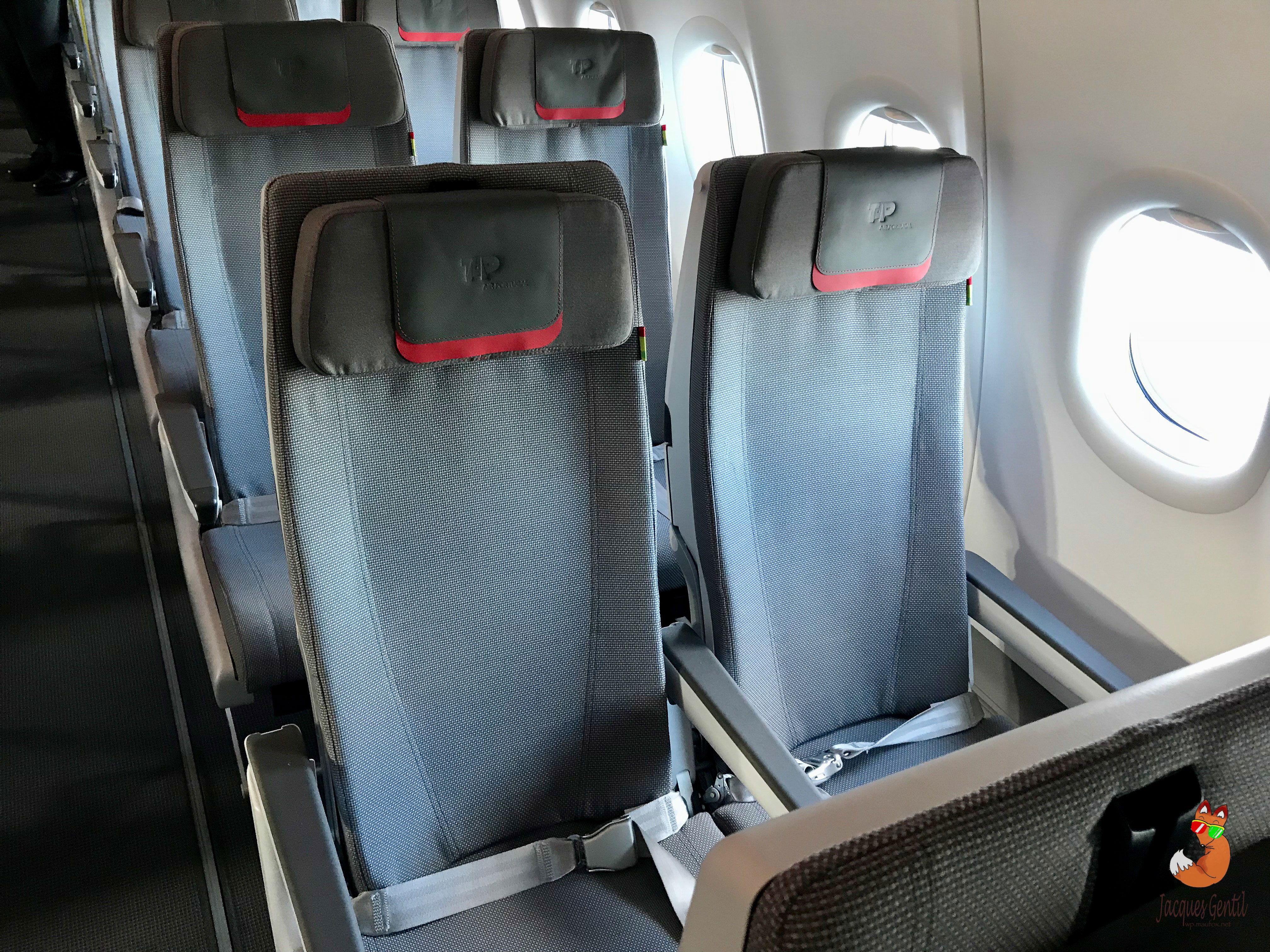 The lightest seat in its class.
Rear economy cabin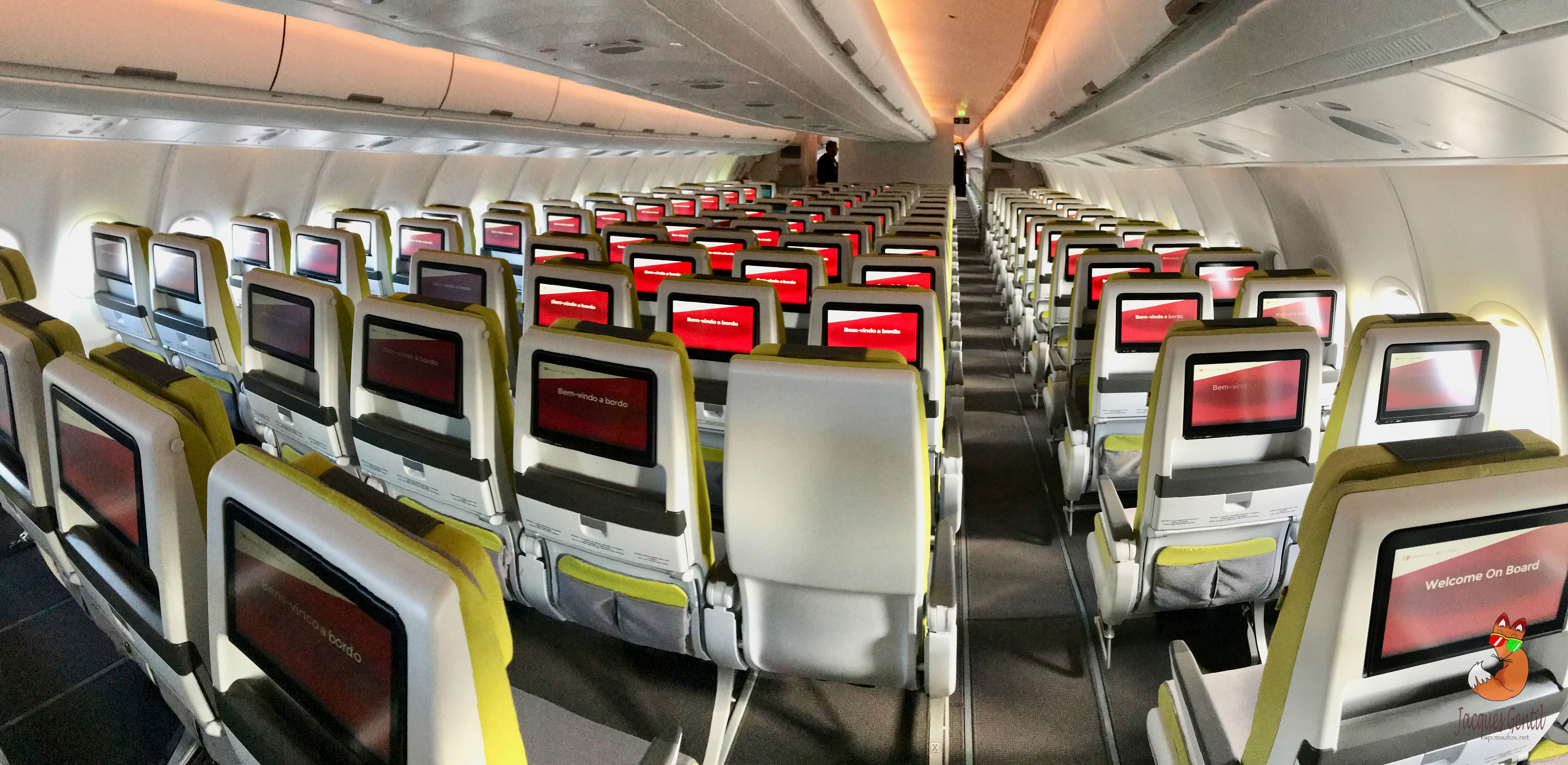 Large overhead bins and IFE screens and LED cabin lights.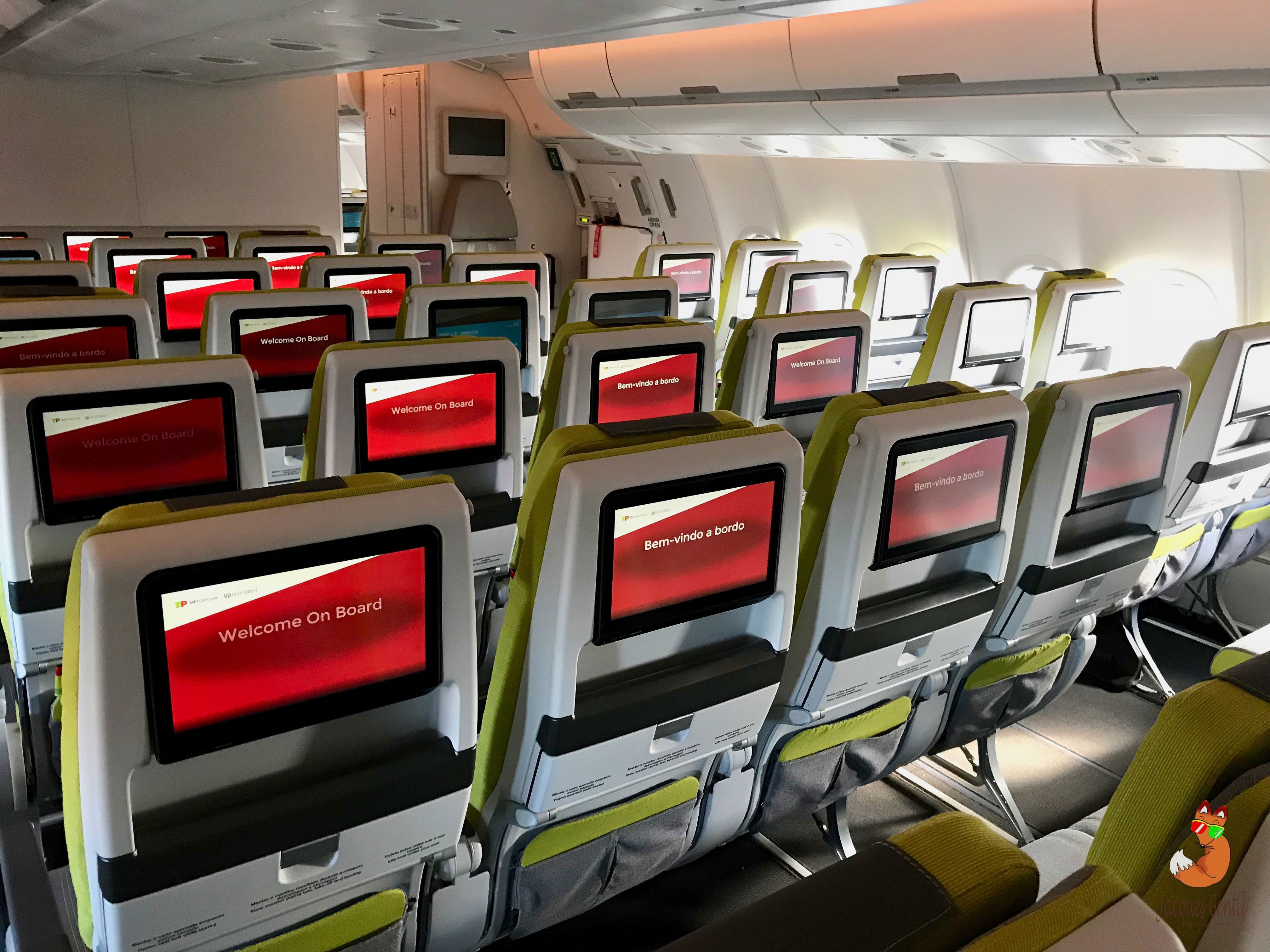 Cabin lights can produce 16.7 million combinations.
Aft passenger/crew door 4 right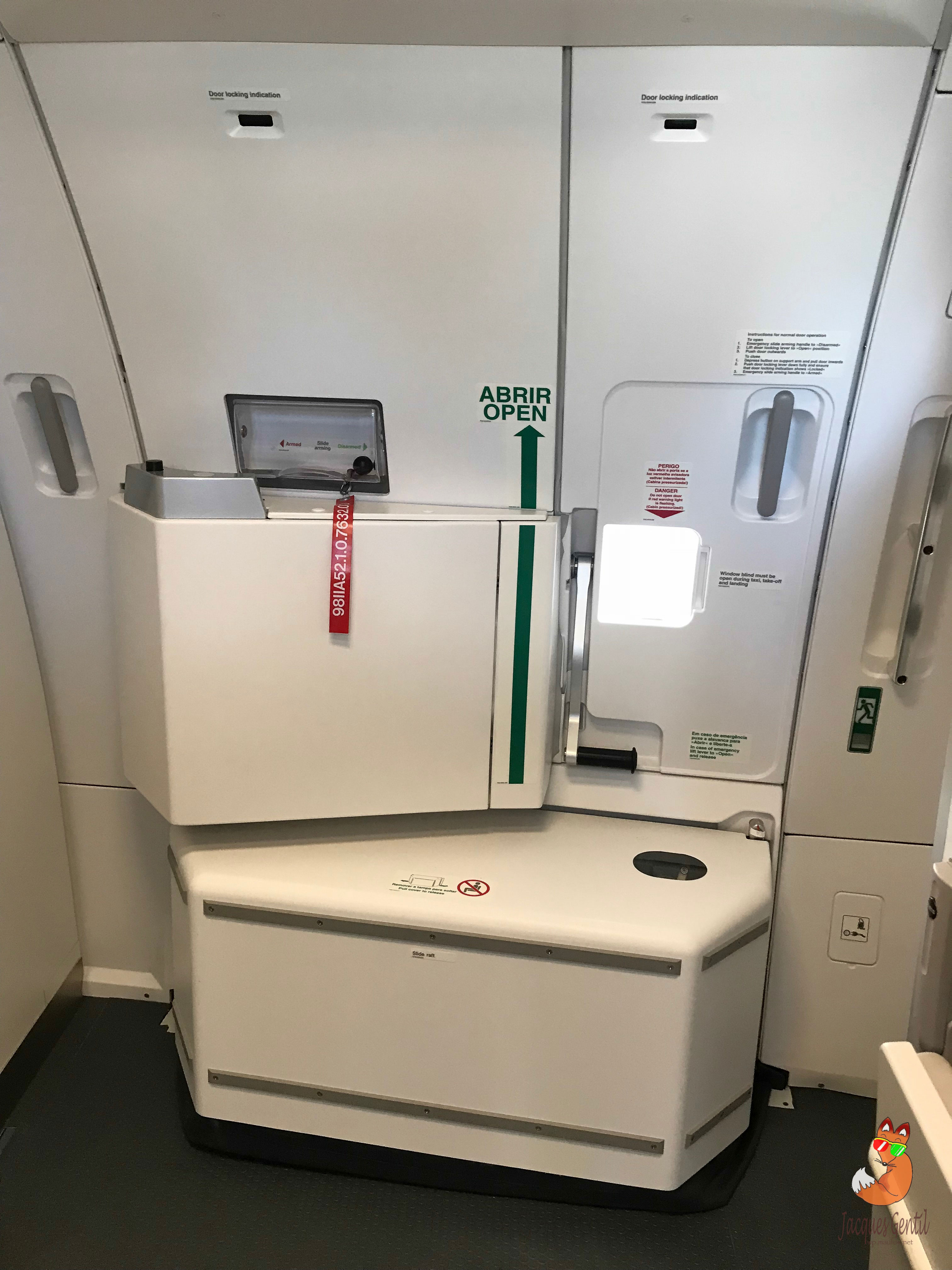 Safety pin with red streamer fitted to prevent escape slide/raft from inflating if door is opened.
Two toilets at the rear of aircraft providing more space for people with disabilities.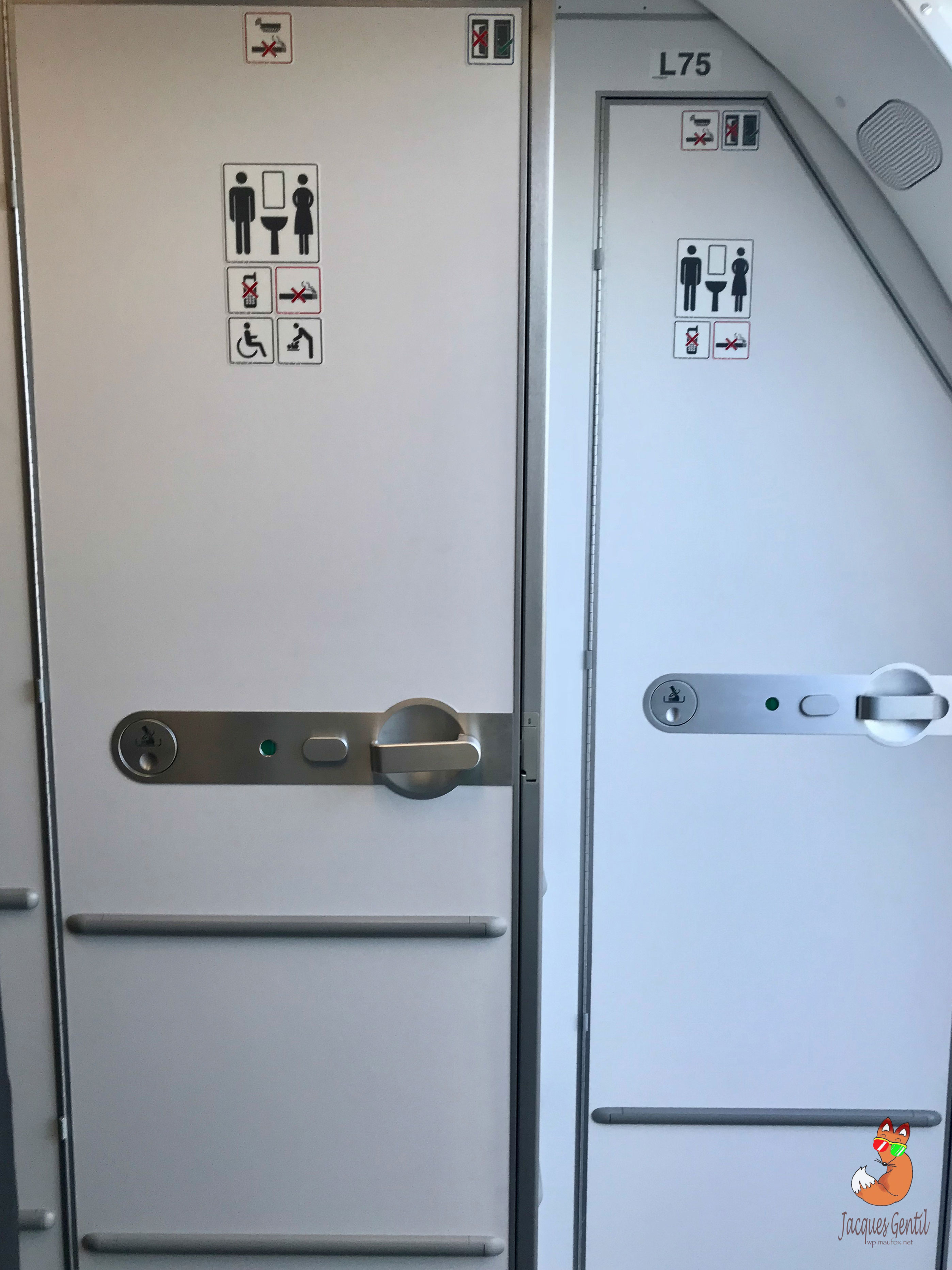 A door can be opened between the two toilets.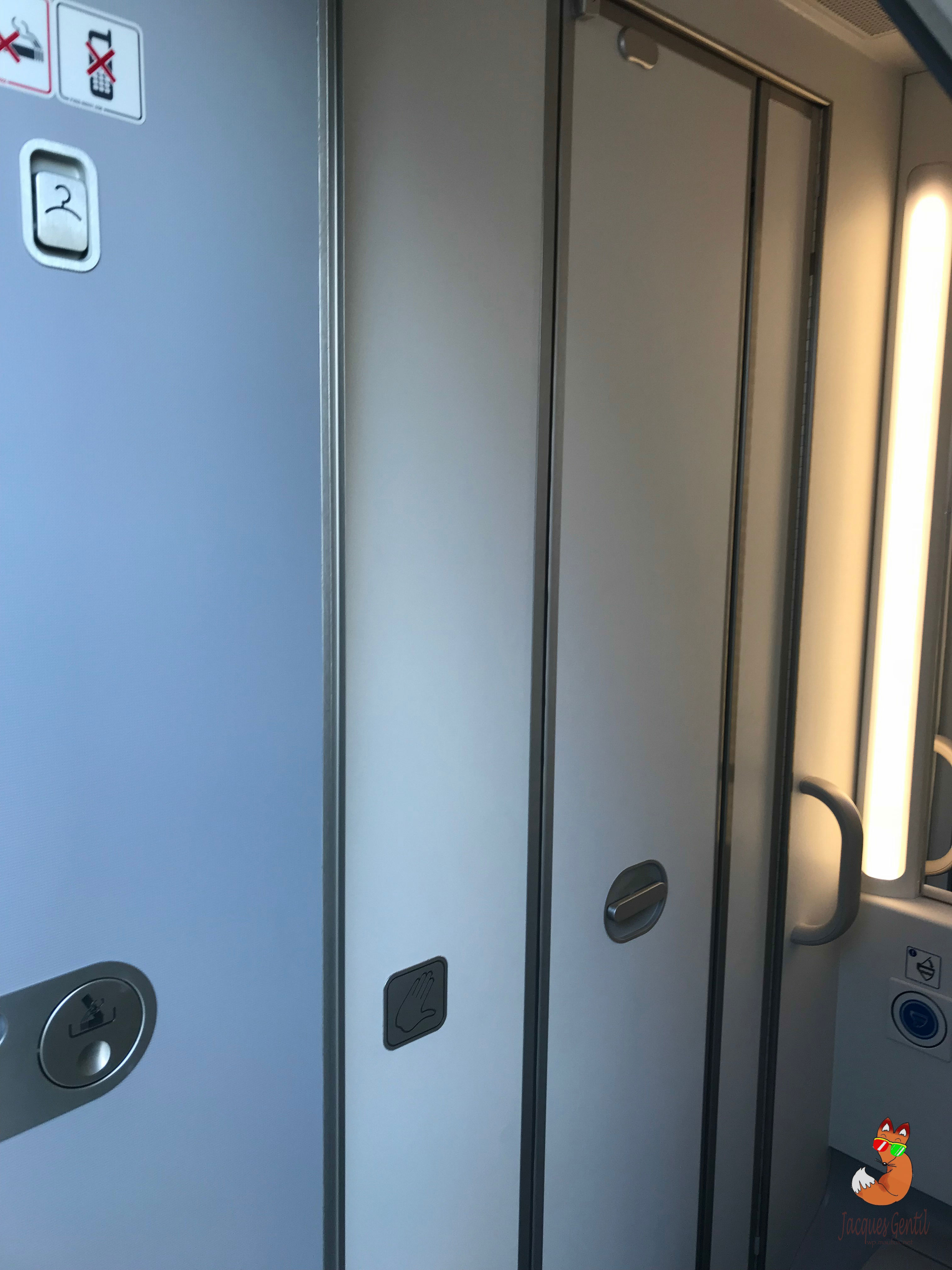 Connecting door on right hand side.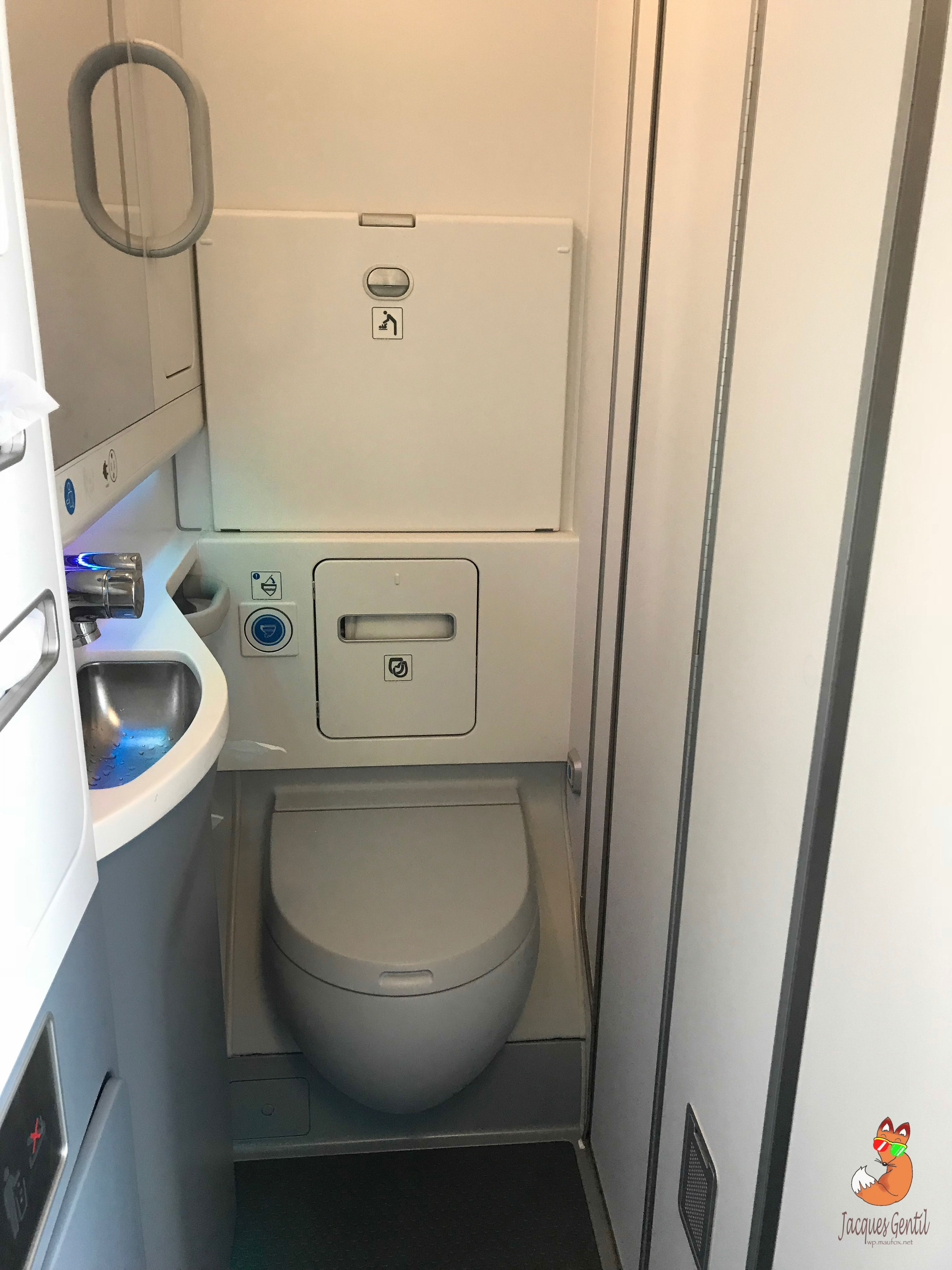 Rear galley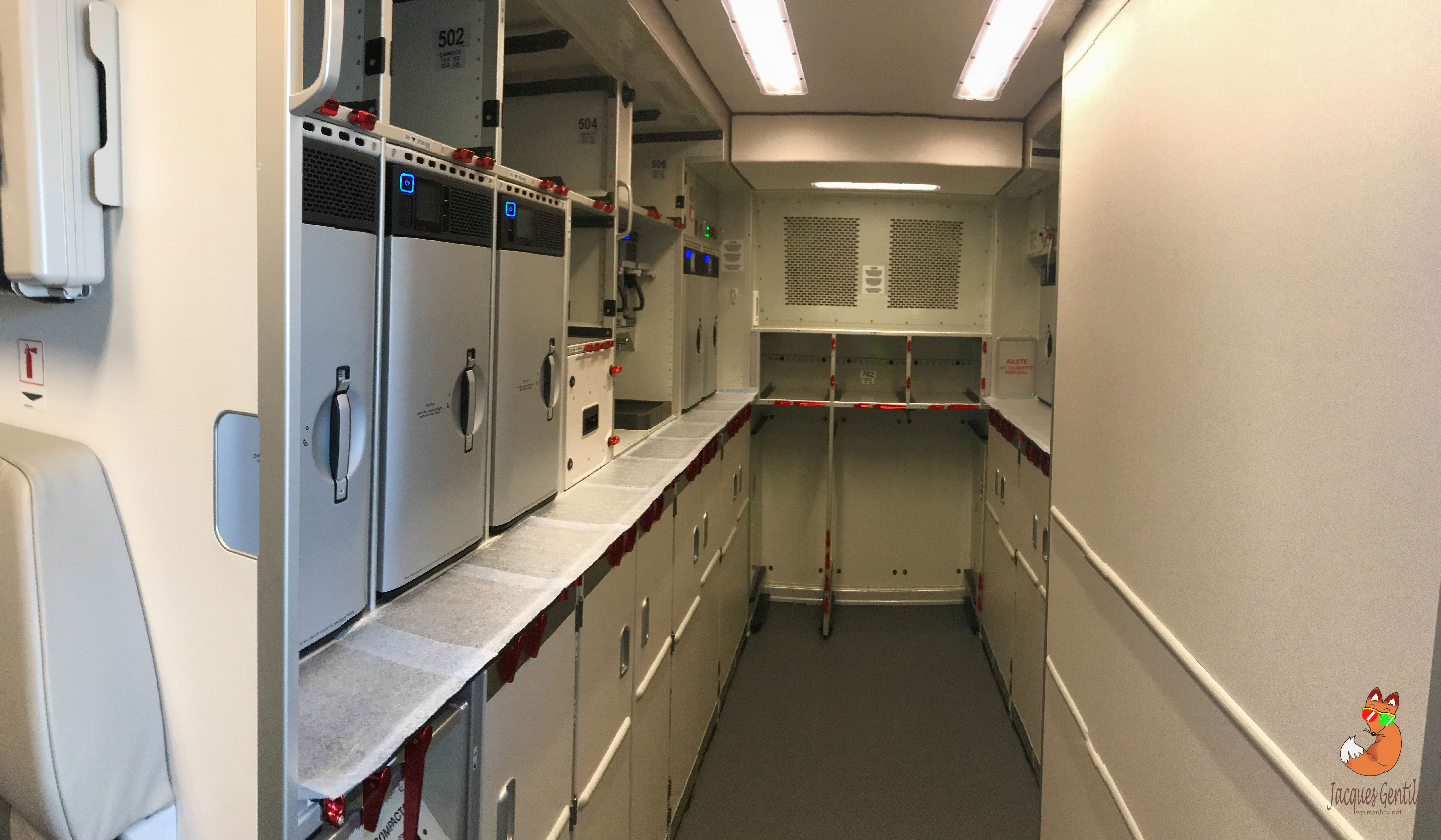 AeSM Team with Airbus Technical representatives.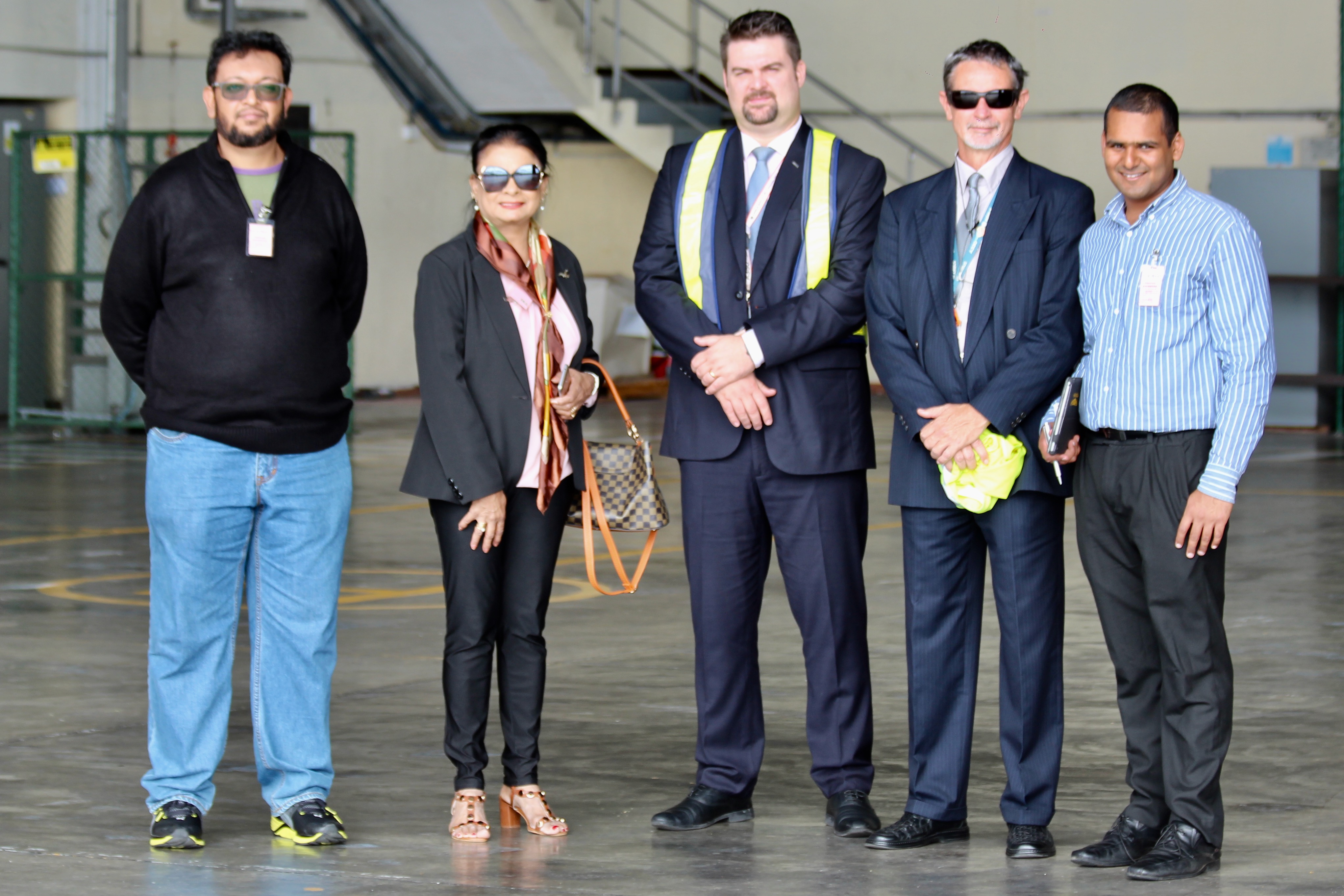 Nadeem, Amrita, Gilles, Patrice, Keshav. Aeronautical Society of Mauritius (www.aesm.mu)
AeSM Team and CEO Air Mauritius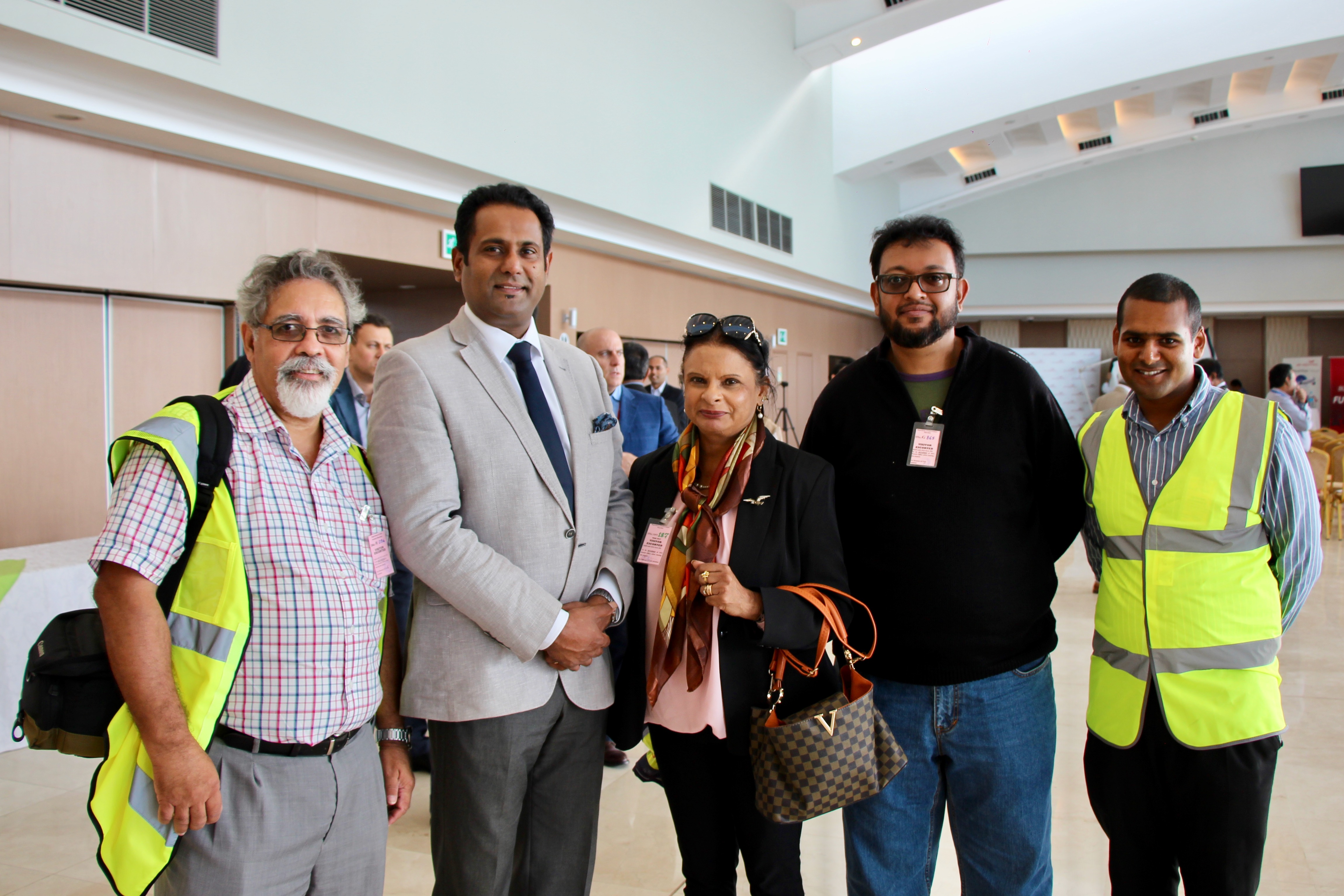 Jacques Gentil, CEO MK Somas Appavou, Amrita Kundomal, Nadeem Kaudeer, Keshav Nundlol.
Departure for TLS Sun 01 July 2018.